PrintNinja - online printing made easy for creators
Our customer service team has helped deliver more than seven million pieces to happy customers around the world. Lean more about that team and quote your printing project today!
Turnaround Times
Heads up! Our printing partners in China will be closed for 1 week for the Golden Week celebration from October 1st through the 6th. Orders in process or entering production at that time will see up to a week's delay in their production time. Our US office and Domestic Printing facility will remain open as usual during this time.
Check out our guide on calculating your turnaround time for inernational orders here:
For turnaround time estimates for international orders, please see the below graphic: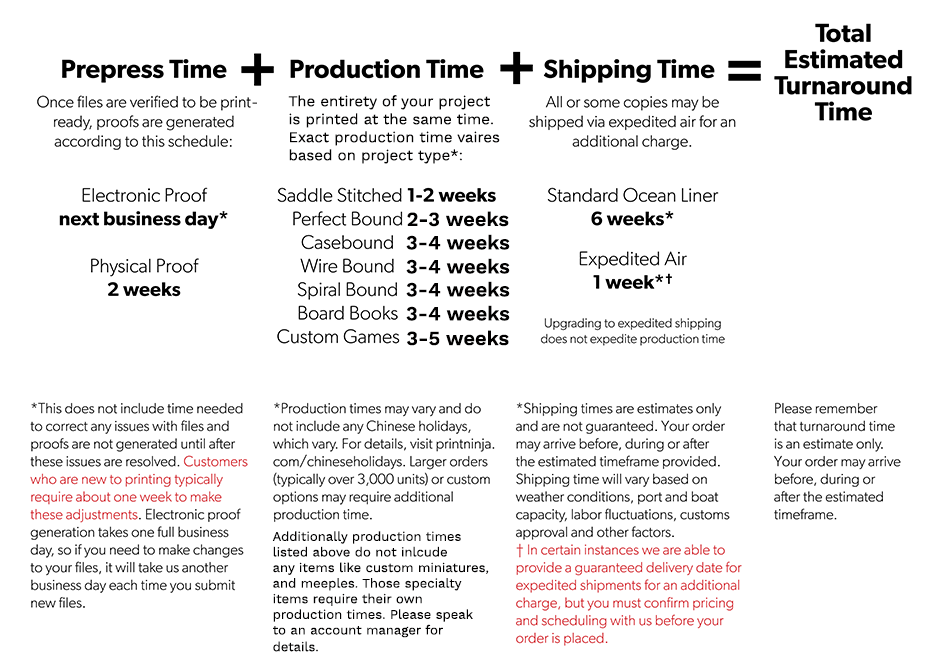 Prepress Time Detail
Proofing, production, and shipping are three separate processes. Once you have paid and uploaded your files and we receive them, you will get a digital proof the next business day before we close. Files sent after hours or over the weekend are received on the following business day. We will work with you until your proof is right; sometimes this takes several times back and forth. We recommend you budget a week to make sure your files are correct and ready for press, but this can vary based on your experience and ability to make fixes to your files. Once digital proofing is complete we will create any physical proofs or press hardcopy proof sheets you have ordered. (Book hardcopy proof sheets take two weeks to produce and ship, and game and board book hardcopy proof sheets take 3 weeks.) Once proofing is complete and you approve the proofs we proceed to production.
Production Time Detail
Production turnaround times start from the day you go to press, which is usually one to two days after you approve your final proof. Production varies based on project type, project complexity, binding type, and project size. The timeline estimates above are for modest sized orders (fewer than 2000 units) with average complexity. While we are usually well inside these timeline estimates, getting your book right is the main priority. If you have a large order, many specialty options, or a high page count please anticipate a longer production timeline.
Once your order is printed and bound our Quality Control staff inspect a random sampling of your order and confirm it matches your proofs. We then pack them and ship them according to the method or methods you have paid for.
Shipping Time Detail
Shipping is where you have control. Domestic orders ship via UPS; we can offer Ground shipping, 2nd Day Air shipping and Next Day Air shipping. For international orders, we offer budget shipping via ocean container and that takes 6-8 weeks after your book is finished printing. We also offer expedited shipping via air freight that takes 7-10 days after production. You can ship via one or both of these methods, and our calculator (internal link to calculator home page) can give you an instant price for splitting your shipment in this way. These timelines are also estimates, and PrintNinja does not have control of customs, port strikes, ocean currents, and other rare occurrences that can extend your shipping time.
PrintNinja always recommends padding your timeline and ordering as early as you are able. While we will do all we can to meet a requested timeline, we cannot offer guarantees, and we never want to sacrifice the quality of your project. Our estimates are just that, estimates, and while the majority of our projects fall within those listed turnaround times, delays are possible when custom manufacturing your unique book or game.
Domestic Orders
For turnaround time estimates for domestic orders, please see the following graphic: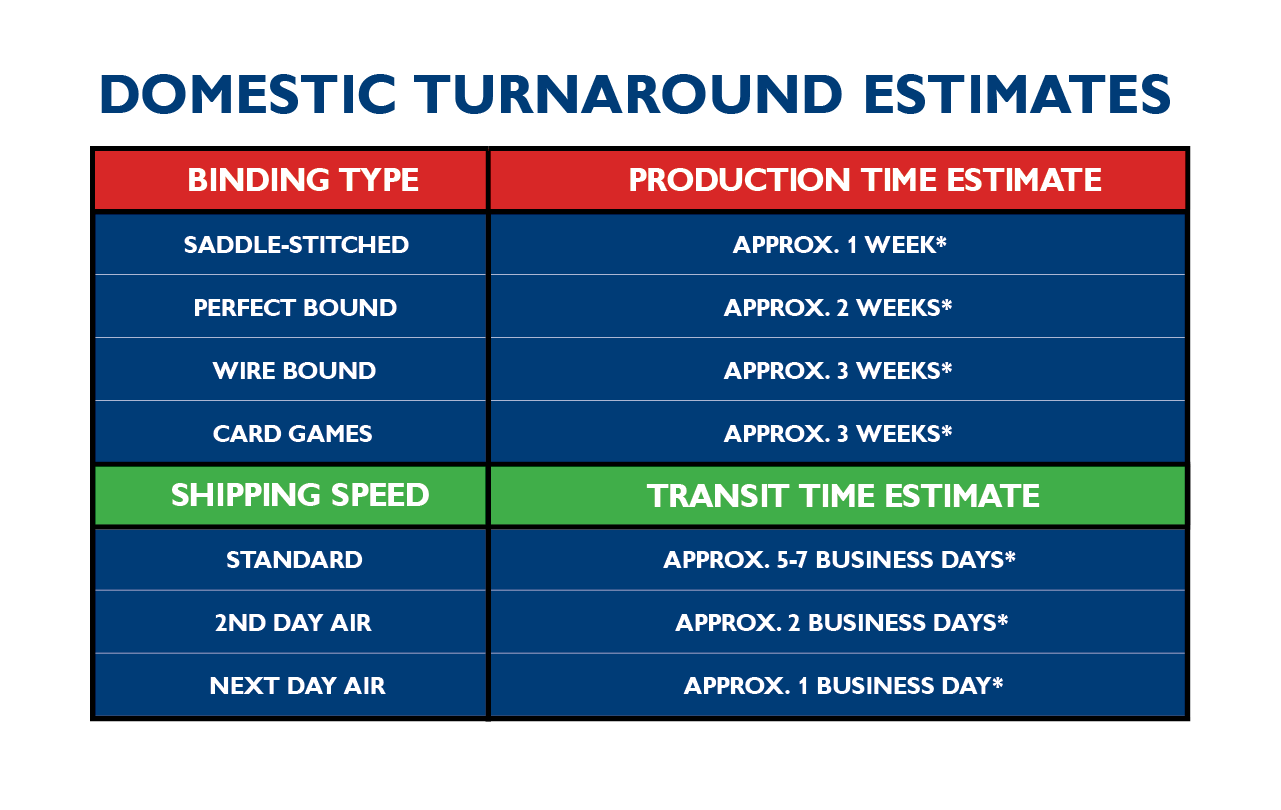 Freshly updated customer reviews from TrustPilot