PrintNinja - online printing made easy for creators
Our customer service team has helped deliver more than seven million pieces to happy customers around the world. Lean more about that team and quote your printing project today!
Paper Weight
The term paper weight is seen frequently in the printing business and is used to describe the thickness, or caliper, of paper stock. At PrintNinja, we offer a wide variety of quality paper stocks to ensure your project comes out just like you imagined. There are many phrases used to describe paper weight and it is important to understand these before printing your project.
GSM vs. pound (lb.) vs. points (pt.)
The units GSM, pound (lb), and points (pt) are commonly used to describe the weight, or thickness of paper stock. However, these terms are not interchangeable and will result in significantly different paper thicknesses.
GSM stands for Grams per Square Meter and is an exact measure of how heavy or thick a paper is. GSM is used across all paper types and makes comparing different types of paper easier.
Pound is the weight of 500 parent sheets of a particular type of paper and is generally used for describing text or offset stock. To learn more about parent sheets, visit our paper and cardstock guide.
Point is a term most commonly used to describe cover stock and card stock. One point is equal to 1/1000 (.001) inches. For example, a 10pt. cover stock will measure 0.010 inches thick.
Text (offset) vs. Cover Stock
The terms text and cover stock are named for how the paper is generally used. Text stock, also called offset stock, which is usually measured in pounds (lb.), is most often used on internal pages. Cover stock, measured in points (pt.), is commonly used on cover pages. However, this is not a steadfast rule and text and cover stocks are often used for both. The term cover stock is generally used to describe paper that is 135-300 GSM.
The primary difference between these is the paper thickness, cover stock being thicker and more rigid than text. It is important when noting paper weight to take into account both the numerical weight as well as the type of paper. For example, 100lb text stock sounds thicker than 65lb cover, however, cover stock parent sheets are much smaller which means an equally thick parent sheet will weigh less.
Paper Weight Comparisons
Unfortunately, because of the complexity of paper thickness, there is no equation to convert various paper types to weight. However, we've created the chart on the left comparing the most common paper stock weights.
---
PrintNinja's Available Paper Stocks
55lb. text
The lightest of our paper stocks, this is typically used for the pages of novels, or for workbooks (80 GSM metric weight). For reference, this is approximately 20lb bond, which is the thickness of average computer or copy paper.
70lb. text
The thickness of an average comic book page, 70lb. text is also used for catalogs with high page counts (105 GSM metric weight).
85lb. text
This versatile, medium weight paper is commonly used for magazines, catalogs, and booklets of all varieties. It is also our recommended inside paper weight for hardcover books with page counts higher than 60 (128 GSM metric weight).
105lb. text
This stock is typically used for the inside pages of children's books, as well as coffee table and art books. It is also our recommended cover stock for single-issue comic books and many other saddle-stitched projects (157 GSM metric weight). It is also commonly seen used in brochures.
Please note, when 105 lb. paper is paired with a "Matte" finish for interior pages, occasionally there will be some "shiny areas". Please see below for an image example: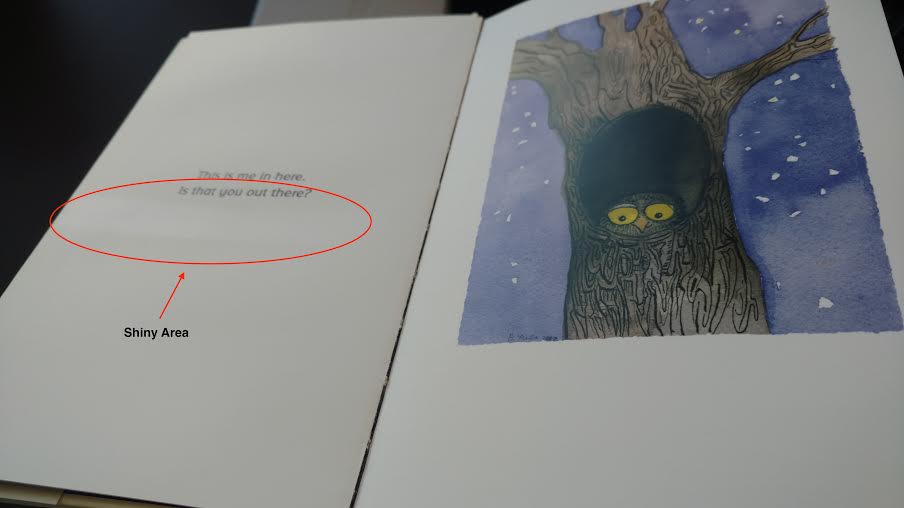 This issue only occurs on pages with large blank areas opposite heavy-colored pages. There is sometimes a minor ink transfer that is removed and in turn, alters the finish. A varnish can be applied to your interior pages to avoid this, but there is an additional cost. The cost is determined by your page count, so your account manager can get a quote to have this applied to your project.
135lb. text
The heaviest of our text stocks, 135 lb., is suitable for the inside pages of children's books or coffee table books that want an extra-heavy page feel. It also works well as a cover stock for many saddle-stitched projects (200 GSM metric weight).

If your artwork contains heavy ink usage that crosses the gutter of your pages, we recommend a lighter weight paper, as the 135 lb stock is more prone to ink cracking than our lighter options. Please see below for an image example: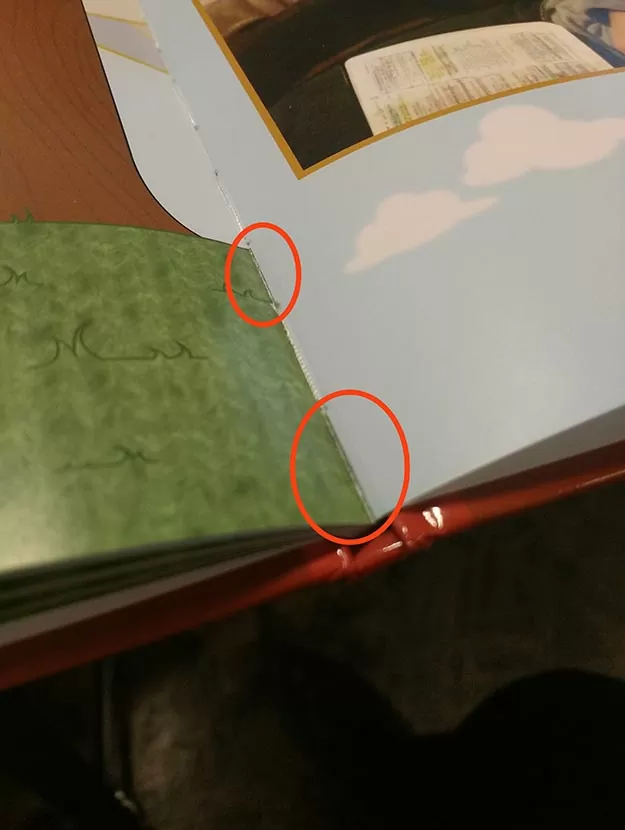 10pt. cover
The lightest cover stock we offer, 10pt. cover is a great fit for catalog covers, and is often the best choice for the cover of any perfect bound project 6″ x 9″ or smaller (250 GSM metric weight).
12pt. cover
A medium weight cover stock often used as the cover paper for trade paperbacks, graphic novels, and many perfect bound projects larger than 6″ x 9″ (300 GSM metric weight).
14pt. cover
The heaviest cover stock we offer, 14pt. cover gives a rugged, durable feel and is often used for any project that will be handled a lot, for very thick perfect bound projects of any variety such as catalogs or graphic novels, or for oversized projects larger than 8.5″ x 11″ (350 GSM metric weight).
---
Now that you fully understand common paper weight terms, as well as how they are used and measured, see how your paper choice affects the price of your project with our instant quote calculator. If you don't see what you're looking for or need help feel free to contact us. Or, if you want to continue learning about paper options such as coatings and finishes, see our Paper Options page.
Freshly updated customer reviews from TrustPilot