PrintNinja - online printing made easy for creators
Our customer service team has helped deliver more than seven million pieces to happy customers around the world. Lean more about that team and quote your printing project today!
Booster Packs
If you have a need to supply your game players with a special, small deck of extra cards, booster packs are an excellent solution. Commonly seen in many trading card games, booster packs are wrapped with silver foil to give your cards a pristine, professional look.
Booster packs are small, wrapped packages containing approximately 1-20 cards. For projects requiring more than 20 cards, simply request a custom quote with your specifications!
Booster packs are sealed with silver foil wrapping to keep all of the cards neatly in place. Printing on foil packaging requires very high order minimums due to setup costs, so for most orders we are unable to print directly on booster packs. With that said, labels are effective alternatives many game designers use to denote their booster pack contents.
Domestically, while we do not have the traditional silver foil booster packs available, we do have a resealable plastic sleeve option available for card game projects with lower card counts.
COUNTRY OF ORIGIN
Card games, board games, or any other type of project that comes in a package must have its country of origin marking visible on its outside packaging.  Most customers choose to print this somewhere on their box.  If your project doesn't include printed packaging, however, you'll have to use one of the following methods:
If the only packaging on your deck is shrink wrap, you can include your country of origin marking on the first or last card so it is facing out.  This way, it will be visible without unwrapping the deck.

If you've selected booster packs for your deck, we can apply a standard "Printed in China" sticker to each pack. This will require a small assembly fee, so be sure to ask your account manager to include it in your quote.




The sticker is transparent and approx. 23mm x 7mm (.91" x .28").  Be sure to specify where you'd like the sticker placed and we'll assemble your cards accordingly.

If you'd like to add a little more style to your packaging, you can also design your own sticker that includes a country of origin statement. Check out our

setup guide

for details on how to provide your sticker artwork. Just ask your account manager if you'd like to include custom-printed stickers in your order.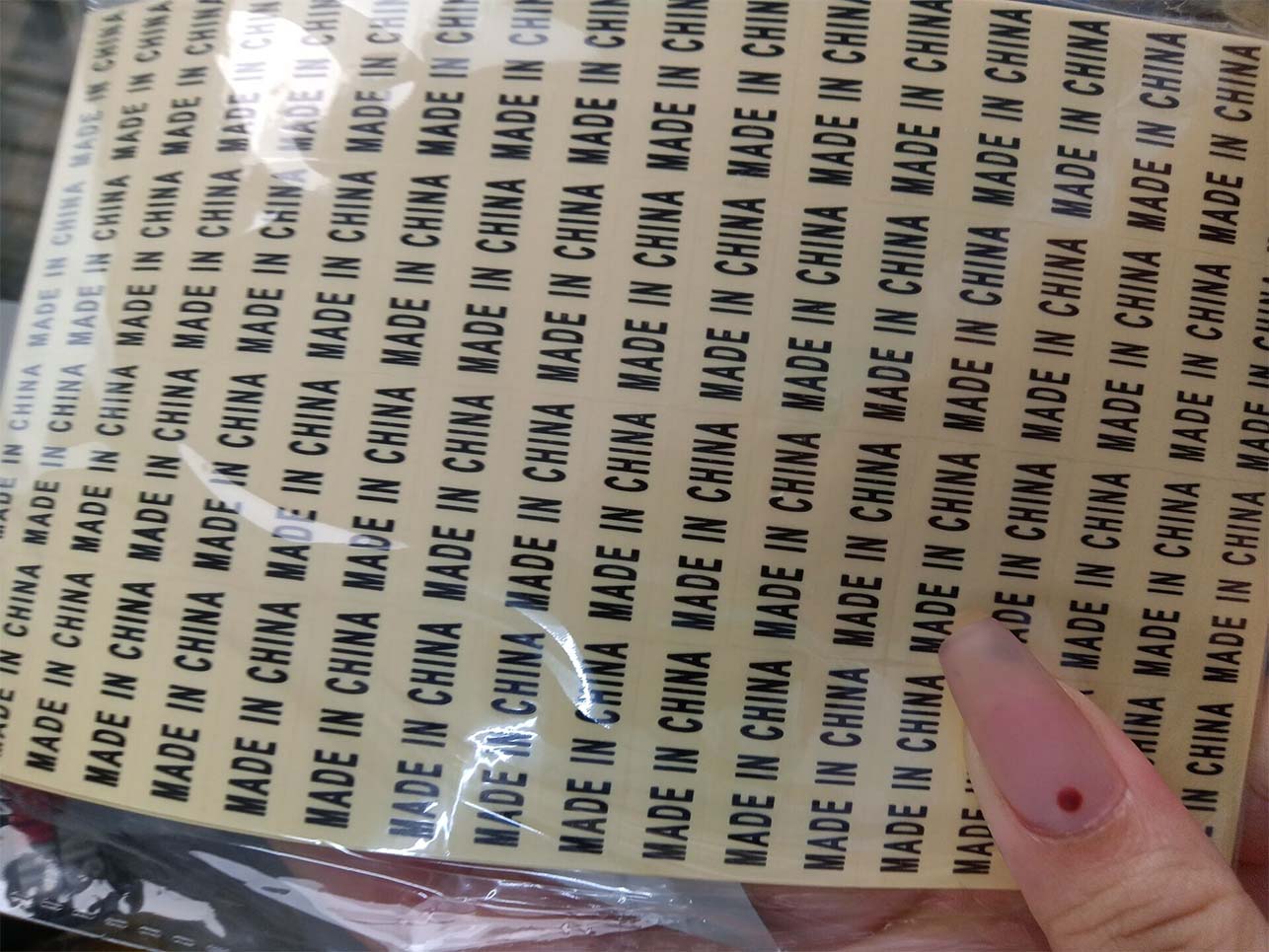 ---
A Note on Card Randomization for Booster Pack Packaging
The main producers of booster packs – games like Pokémon, Magic the Gathering, or Yu-Gi-Oh! – are toy companies that have millions of dollars to produce their products, which gives them the financial ability to produce something like booster packs. The amount of units required to create any significant randomization is around 20,000. As a result, a creator who wants to create random custom booster packs needs to be prepared to spend somewhere in the $100,000 range.
Additionally, printing on foil packaging requires very high order minimums due to setup costs, so for most orders we are unable to print directly on booster packs. With that said, labels and stickers are cost-effective alternatives many game designers use to decorate their booster pack contents.
If you're prepared to invest in creating custom booster packs, we can simplify the production process. Please note that in order to quote your randomized booster pack, we will require artwork as well as a mathematical breakdown of how many cards of each you will need. Again, the MOQ for randomization is 20,000 units. Contact one of our Customer Service Ninjas to get more information.
Ready to get started?
We've created a custom card game pricing calculator for you to explore all our different printing choices, shipping methods, and get an instant price for your project. You can also customize just about anything, from size and packaging, to specialty options like metallic ink, foil stamping, and so much more.
Get Your Price
Freshly updated customer reviews from TrustPilot