PrintNinja - online printing made easy for creators
Our customer service team has helped deliver more than seven million pieces to happy customers around the world. Lean more about that team and quote your printing project today!
Introduction to Printing
This article serves as a basic introduction to offset printing.
Offset printing, also called lithography, uses a large printing press with a series of printing plates that transfer ink onto paper, which is then cut, folded, and bound to form a final product.
When you think of offset printing, think of the word transfer. Each step in this printing technique involves the transfer of images (text and art) from one material to the next. First, your images are digitally transferred onto a set of plates, which collect ink to transfer your images onto a rubber blanket that transfers images onto paper.
There are two primary types of offset printing: sheet-fed and web. The most common alternative to offset printing is known as digital or print-on-demand.
Sheet-Fed Offset
PrintNinja uses sheet-fed presses. These machines use pre-cut sheets of paper, called parent sheets, that are fed through the printing press one sheet at a time. They are best used for short or mid-range runs (250 to 10,000 units).
Pros:
Highest quality printing
Wide range of specialty options
Low per-unit costs
Cons:
High setup costs
Medium minimum order sizes
---
Web Offset
Web offset printing presses use a roll of paper that is continuously fed through the printing press. They are far more complicated than sheet-fed presses and can be as large as an entire building. Web presses are used for high-volume printing (10,000+ units).
Pros:
Extremely low per-unit cost
Cons:
Extremely high setup costs
Large minimum order sizes
Lower quality than sheet-fed
---
Digital (POD)
Digital printing (also known as Print-On-Demand or POD) is not an offset printing method, but it's a good one to understand. Digital printing uses equipment similar to a large home laser or inkjet printer. This approach is best used for small runs (1 to 150 units).
Pros:
No setup costs
No minimum orders
Cons:
High per-unit costs
Less consistency in color and quality
Fewer specialty options
---
Digital Offset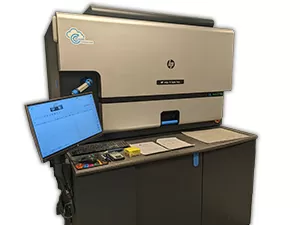 Digital offset is a recent technological innovation in the printing industry. It offers the best of both digital and offset: there are no setup costs or minimum orders, there's a fast turnaround, and the quality is superior to traditional digital and comparable to traditional offset. Like traditional offset, the process still involves an image plate. The printing imaging plate is electrostatically charged using lasers inside the press, then the areas of the plate with charge attract ink from various coated ink rollers, which is then transferred to a rubber blanket and, finally, your project. 
This process is made possible through the patented technology of the HP Indigo line of printing presses and is essentially a fusion of digital and offset printing. PrintNinja uses a digital offset HP Indigo 7K in our Domestic facility for orders that require a low volume or quick turnaround. Indigos use ink and paper like traditional offset, whereas other digital printing is commonly toner based.
Pros:
No set up costs

No minimum orders

High quality printing

Fast production time
Cons:

Limited specialty options

More expensive than offset at high qualities
---
What Can You Print with Offset?
Offset printing can be used to print on paper, cardboard, plastic, and even chocolate! This printing method is a popular choice for card and board games, record jackets, and multi-page projects. Games and books follow the same printing process, but post-press is where the similiarties end.
Most of our Printing 101 resource pages focus on four-color sheet-fed offset printing since those are the machines used by PrintNinja's factories. These presses use four colors of ink — Cyan, Magenta, Yellow, and Black (CMYK) — to produce the vast majority of full-color projects printed worldwide.
Most of our Printing 101 resource pages focus on four-color sheet-fed offset printing as well as digital offset printing, as those are the machines used by PrintNinja's partner facilities and domestic print shop. These presses use four colors of ink — cyan, magenta, yellow, and black (CMYK) — to produce the vast majority of full-color projects printed worldwide.
What Can You Print with Digital-Offset
Like traditional offset printing, digital-offset printing is highly versatile and is capable of printing on a wide variety of paper stocks, though not limited to paper exclusively. Our domestic print facility
y is set up to specialize in print runs under 500 units with a focus on saddle-stitch, perfect bound, and simple card games (poker and tarot size cards, with or without a tuck box). As we continue to grow, we'll look to expand into other product types in the future, so keep an eye out for new developments!
Freshly updated customer reviews from TrustPilot