PrintNinja - online printing made easy for creators
Our customer service team has helped deliver more than seven million pieces to happy customers around the world. Lean more about that team and quote your printing project today!
Finish
Your book block is now ready to be bound, but before binding can happen the parent sheet that will become your cover needs to have a finish applied to protect it. Finishes can be gloss (high-shine) or matte (low-shine), and come in two distinct types: Varnish and Lamination.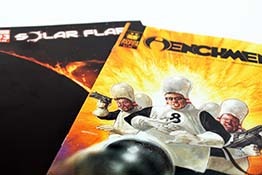 Varnish
A varnish is a liquid finish applied on the printing press following the same process as if it were an ink. The varnish style usually matches the coating of your paper (gloss or matte) and protects the ink on your cover.
Lamination
Lamination is a film applied by a machine that glues a roll of lamination to the cover, which is subsequently polished. This finish is the best for protection and is used on thicker cover options, perfect bound and case bound books.
No Finish
On rare occasion you may opt to skip the cover finish. This provides a raw look and feel, but it's important to note that it provides no protection, leaving your cover more susceptible to damage.
Watch a matte lamination being applied