How To Make A Custom Card Game Like Apples to Apples
What is Apples to Apples?
Apples to Apples is a party game that consists of matching red noun cards to green adjective cards. First released in 1998 by Out of the Box Publishing, Apples to Apples quickly gained both popular and critical acclaim. By the time Mattel acquired the rights in 2007, the game had sold over three million copies, as well as amassing several high-brow awards from organizations like MENSA and Games magazine. By applying the SVU model (Simplicity, Variability, and Uniqueness), we can understand what makes this game so successful and learn how to make a game just like it.
Simplicity: setting up this game is a piece of cake – or should we say a piece of apple pie. In fact, the instructions boast that all you have to do is "open the box, and you're ready to play!" Beyond that, the game only has two physical gameplay elements – red and green cards. No fancy timers or complicated gadgets here!
Variability: beyond the classic gameplay mode of matching red cards to green cards, Mattel provides six other ways to play the game, including "Apple Turnovers" where the player matches green cards to red cards, and "Crab Apples," where the judge for the round picks the card they like the least instead of the card they like the most.
Uniqueness: Apples to Apples is distinct in that it is an all-ages party game – it can just as easily be played at a children's birthday party as it can be at a house party. Unlike many other party games, Apples to Apples doesn't rely on bawdiness to get laughs. It's a game that proves that family fun is for all ages.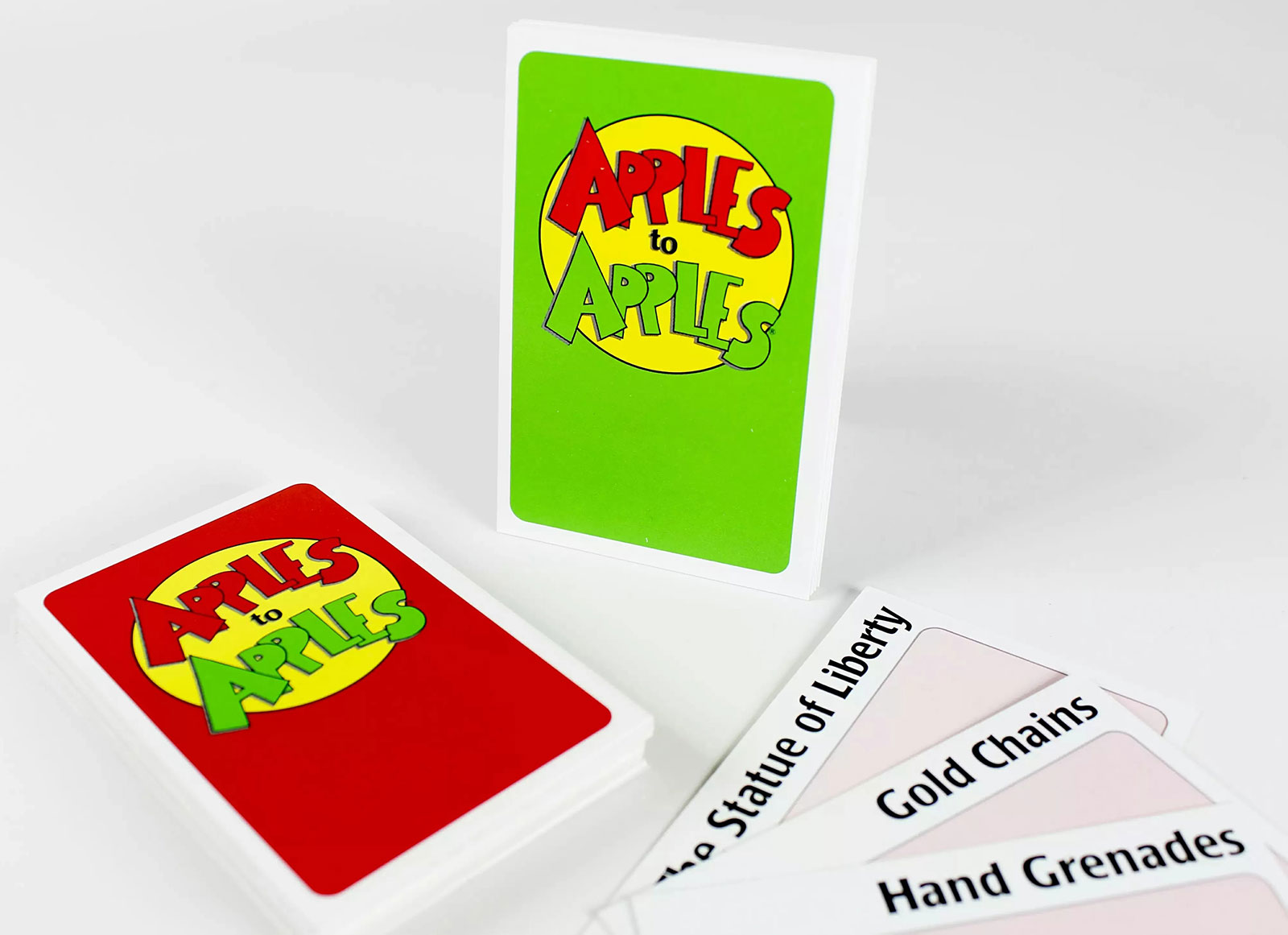 Components
216 poker size (2.5"x 3.5") "red apple" cards, 300 GSM coreless with gloss finish 

72 poker size (2.5"x 3.5") "green apple" cards, 300 GSM coreless with gloss finish 

2 piece box – gloss lamination
Because Apples to Apples has so many cards, and they don't have to be shuffled frequently, we recommend going with a 300 GSM coreless for the best bang for your buck. For other tips on saving money while making your card game, check out our card game cost reduction strategies. If you want a ballpark estimate of how much your card game would cost, reference our sample pricing page.
To find out how much making a game like Apples to Apples would cost, plug the specifications into our custom card game calculator.
Since PrintNinja specializes in medium to large quantity orders, we have a minimum order quantity (MOQ) of 500 units. To help you make a decision on the types of materials to use in your card game, we recommend ordering a sample pack: this is the best way to experience the varieties of cards you can order for your custom card game.
Looking for more inspiration? Check out some of our other tutorials, featuring instructions on how to make games like Cards Against Humanity, Blackjack, and Uno. 
Ready to start?
We've created a custom card game pricing calculator just for card games so you can explore printing choices, shipping methods, and accurate order prices for your project. You can also customize just about anything, from game card size to specialty options like embossing and debossing.
Get Your Price
Freshly updated customer reviews from TrustPilot