Trading Card Game and Collectible Card Game FAQ
Do you have booster packaging?
Yes! Please note that the label on it will be a sticker, not printed directly on the package. Printing directly on the package, which requires flexographic printing, is only possible with orders of 20,000+ units.
Do you sell just the booster packaging?
We only offer booster packaging for full card projects printed by us. For packaging alone, we'd suggest sourcing them directly from a vendor.
I already have my cards. Can I send them to you to package up?
No, that is not a service we can offer.
Can you randomize my cards? 
Yes, but only for orders larger than 20,000 units. Please note that the randomization is truly random and that it cannot follow any dictated rules or preferences. There will be a likelihood of duplicates with this process.
Can you implement rarities? 
No, unfortunately we do not have the ability to accommodate the number of cards that rarities require. Why Not? View our Rarity Explanation.
Can you put my booster packs in a booster box?
Yes, but there will be additional pricing requirements. Please take a look at our packaging offerings and get an instant budgetary quote here. 
Do you have holographic foil?
Yes! There's actually two offerings for foil: foil stock or foil stamping. These have different appearances and options, so it depends on what look you're going for and which fits your project needs best. Take a look at one of our card sample packs to get an idea of what would work best for you.
Do you have different colors of foil cardstock?
Yes, but these are only available for orders over $10,000. Our standard foil stock has a silver base color. You can see it for yourself in one of our card sample packs!
Can you do masking on foil stock?
Yes! We refer to this as white ink underprinting. This has a 500 deck minimum but will incur additional costs due to more materials being used.
I want to include a token in my booster pack. Is that possible?
Yes, so long as the total thickness of the cards plus the token does not exceed the thickness of 20 cards. This specific height will depend on the type of cardstock being used.
Rarity Explanation
Why can't you do rarities?
Rarities have a very unique breakdown of cards. We're going to walk through a hypothetical card game, using the same rarity breakdown of an existing TCG, Pokemon. 
Pokemon booster packs come in packs of 10. The rarity breakdown guarantees 6 common cards, 3 uncommon cards, and 1 rare card. The thing that makes TCGs exciting is the variance of cards, so we need to have a total pool of cards by rarity for our game. Let's multiply this by 10 to keep numbers whole and so we have an interesting pool of cards. So now our full game will have 60 common cards, 30 uncommon cards, and 10 rare cards, making 100 different card designs total (Pokemon started with 102).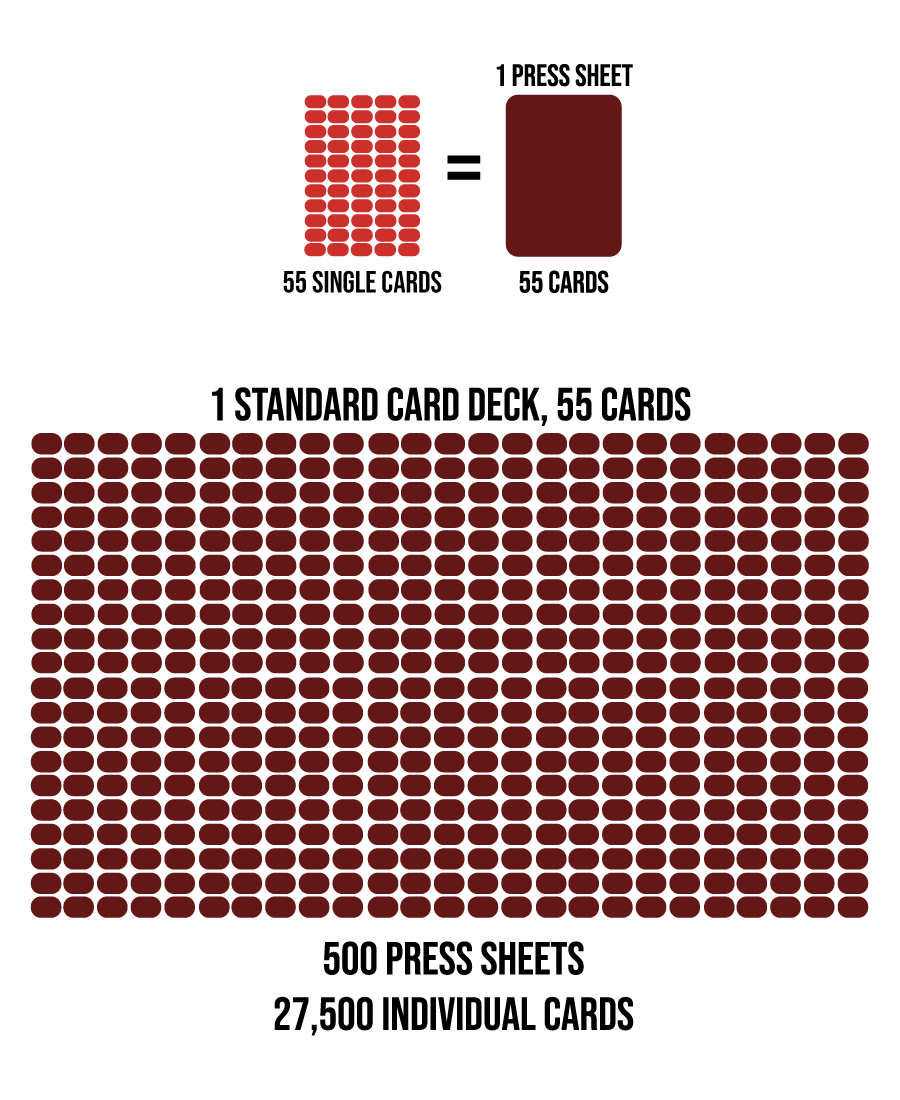 The minimum required to order a card project is 500 press sheets. There are 55 cards to a press sheet.
Your pool of 10 rare cards would need to print 275,000 cards to keep rarity ratios intact.
Rare: 55 x 500 x 10 = 275,000
We would need to repeat this process for the remaining card designs and rarities.
Uncommon: 55 x 500 x 30 = 825,000
Common: 55 x 500 x 60 = 1,650,000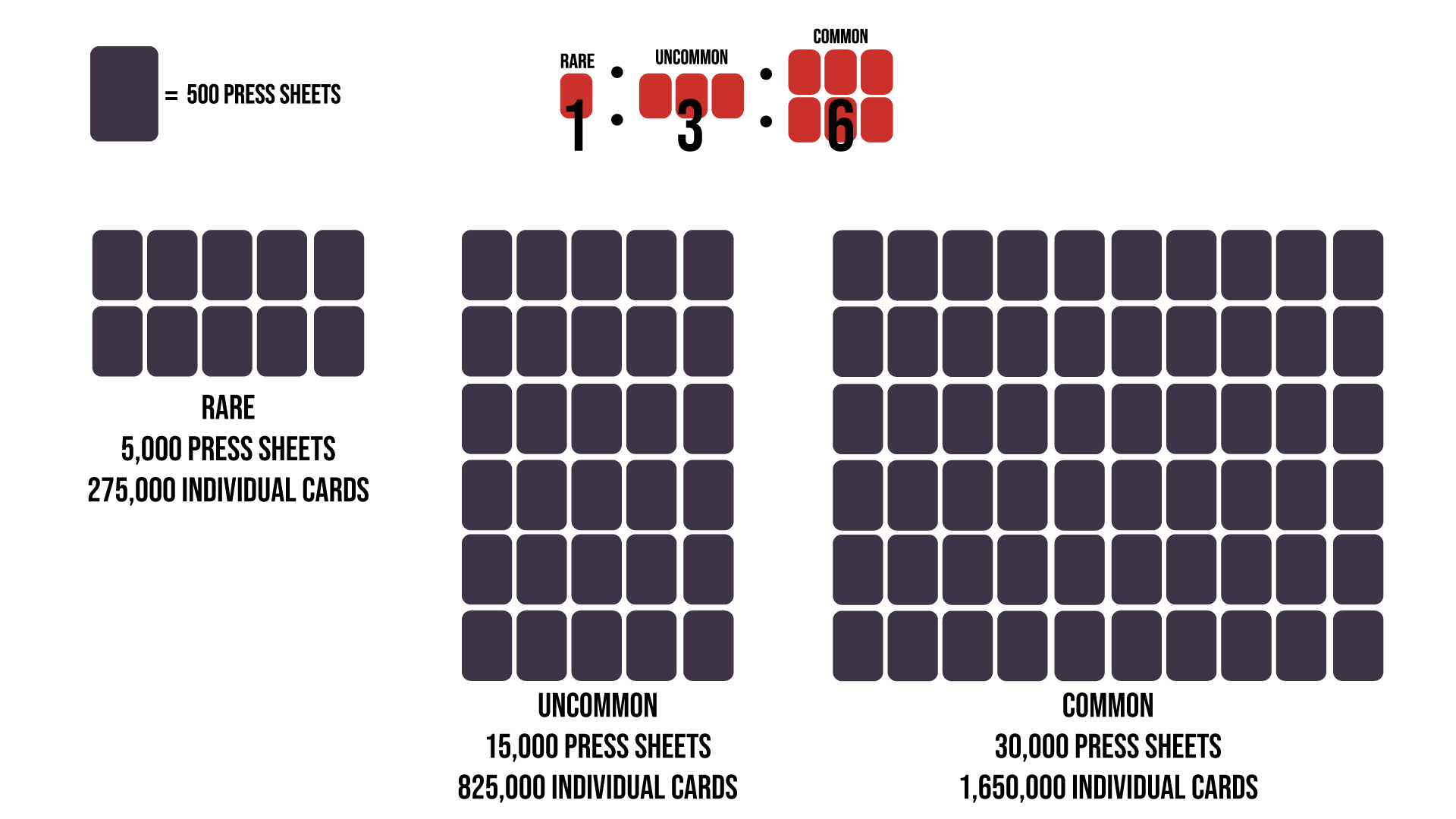 That makes for a grand total of 2,750,000 individual cards or 275,000 units with 10 cards per booster pack for a TCG with 100 unique cards and a 6:3:1 ratio for rarities.
None of this is considering that the randomization we are able to offer is TRULY RANDOM. We have no control over which cards go in a package, so duplicates are likely and we cannot arrange cards by rarity.
PrintNinja's production facilities don't have the ability to sort massive amounts of cards into specifically ratioed amounts. We're happy to work with you to quote your other card game projects, but collectible card games or trading card games are a very specific style that requires massive investment and manufacturing infrastructure.
Ready to start?
We've created a custom card game pricing calculator just for card games so you can explore printing choices, shipping methods, and accurate order prices for your project. You can also customize just about anything, from game card sizes to specialty options like embossing and debossing.
Get Your Price
Freshly updated customer reviews from TrustPilot