Instruction Booklets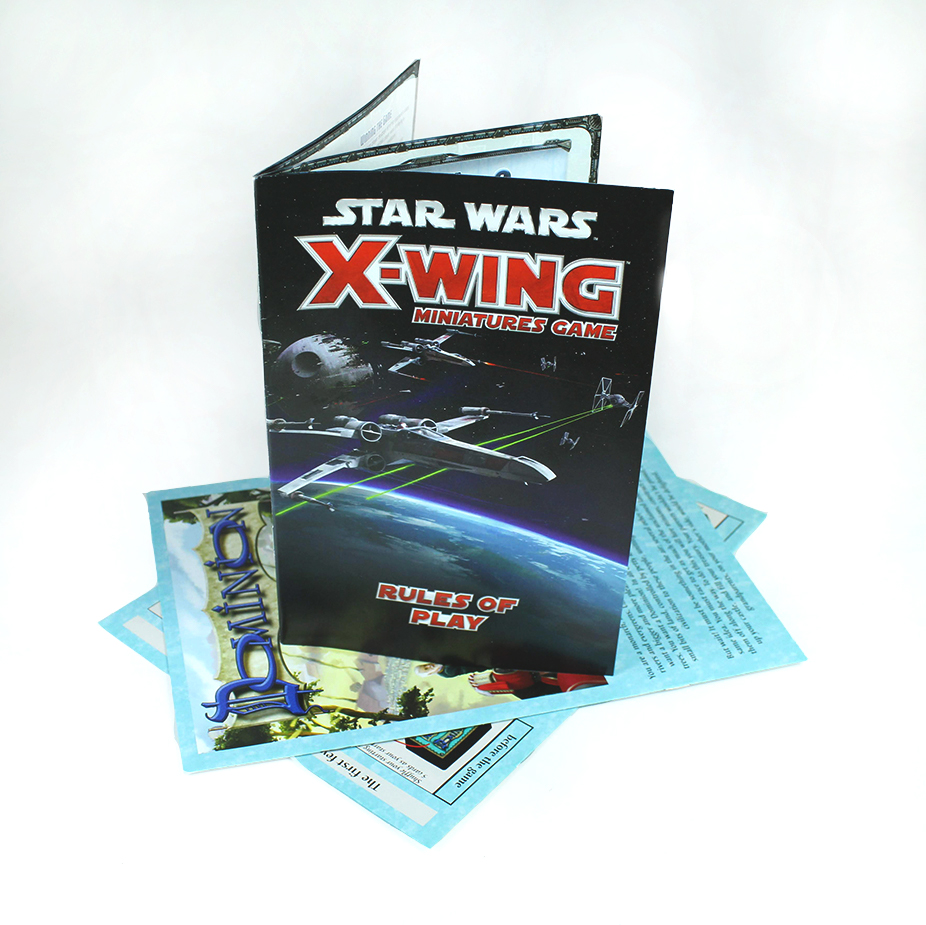 The first thing every gamer reaches for after opening a new game is the instruction booklet. This is the backbone of board games. With tabletop games, there are typically a variety of components and mechanics that need to be explained. This requires you to create a multi-page booklet, which also works well for complex card games.
After reading the information about instruction booklets below, we recommend checking out our board game quote calculator. Using this tool, you can compare the cost and appearance of our different instructions options.
Rule Booklet Binding
Saddle-stitched binding is the default rule booklet option. It is essentially binding held together with staples. It is cost efficient and it's easy to store in a tuck box because of its ability to lay flat.
However, we've printed perfect bound instruction books, typically for more complex board games. Perfect binding provides a heavier and more durable manual. If your instructions need to be continually referenced throughout game play, then perfect binding is the best option for your project. That way, your instructions booklet won't fall apart with heavy use!
Rulebook Paper Weight Options
Our default paper weight for saddle-stitched rule books is 70lb text gloss for the interior and cover pages. If you're thinking about requesting a different paper weight, please let us know the new weight in our additional information box on our card form. We're happy to customize your rule booklet paper weight!
Rulebook Size Options
Our rulebooks are 8″ x 10″ at the largest. Many of our customers prefer to make their rulebooks the same size as the cards or to fit in a specific location in the box.
Rule Booklet Page Count
Whether you choose saddle-stitched or perfect binding for your instructions booklet, your interior page count must be a multiple of 4. Most of our customers tend to have somewhere between 4 and 16 pages in their rule booklet.
What to Include in Your Instructions Booklet
Writing an instructions booklet is a lot like writing a book. If you're struggling in your quest to print a top-notch instructions booklet, check out this awesome rulebook template we found on what to include.
Color Options
You have the option to print your instructions booklet in color or black-and-white. While printing in color creates a more vivid experience for your customers, it isn't always necessary. Simple black-and-white printing still conveys the instructions of your game and is a lot cheaper. If you're interested in learning more about how to save money on your printing project, be sure to visit our cost reduction guide.
Instructions Too Long?
If your instructions are too long to fit into a booklet, or you'd rather go paperless, we have plenty of options for you. Prior PrintNinja customers have successfully printed a QR code for players to scan or a URL for players to visit onto the box. We also provide a small piece of paper and print the QR code or URL for your game's instructions on it.
Already have an instructions booklet format in mind?
We've created a custom pricing calculator just for board games so you can explore printing choices, shipping methods, and accurate order prices for your project. You can also customize just about anything, from dice and pouches to specialty options like foil stamping.
Get Your Price