Custom Settlers of Catan

Settlers of Catan, invented in 1995 by Klaus Teuber, is a cult-classic board game. The game revolves around acquiring and trading resources to create settlements on the island of Catan. By applying the SVU model (Simplicity, Variability, and Uniqueness), we can understand what makes this game so successful and learn how to make a custom game just like Settlers of Catan.
Simplicity: though there are many elements to Catan, it is actually quite easy to learn. In fact, they've even adapted to the modern age, creating a smartphone app that can make the learning process even easier.
Variability: Catan can be played with just the base game, but it also has several add ons available for purchase that can vary the gameplay. These games alter the environment and mechanics of the original game, with themes like Seafarers, Cities and Knights, Traders and Barbarians, and Explorers and Pirates.
Uniqueness: Catan is unique because it can be played by players of all levels – from casual players to serious gamers, it is a very accessible tabletop game.
Game components:
19 custom hexagonal terrain tiles
6 Sea Frame Pieces
9 Harbor Pieces
18

punch-out tokens for chits

1 Deck of customized cards

95 cards for Resource Cards

25 cards for Development Cards (14 Knight/Soldier Cards, 6 Progress Cards, 5 Victory Point Cards)

4 cards for Building Costs Cards.

2 Special Cards: Longest Road & Largest Army

16 wooden cities, 4 of each color
20 wooden houses for settlements, 5 of Each Color
60 wooden sticks for roads, 15 of Each Color
2 Dice, 1 yellow and 1 red
1 wooden Halma pawn or thin cylinder for the Robber

Instructions sheet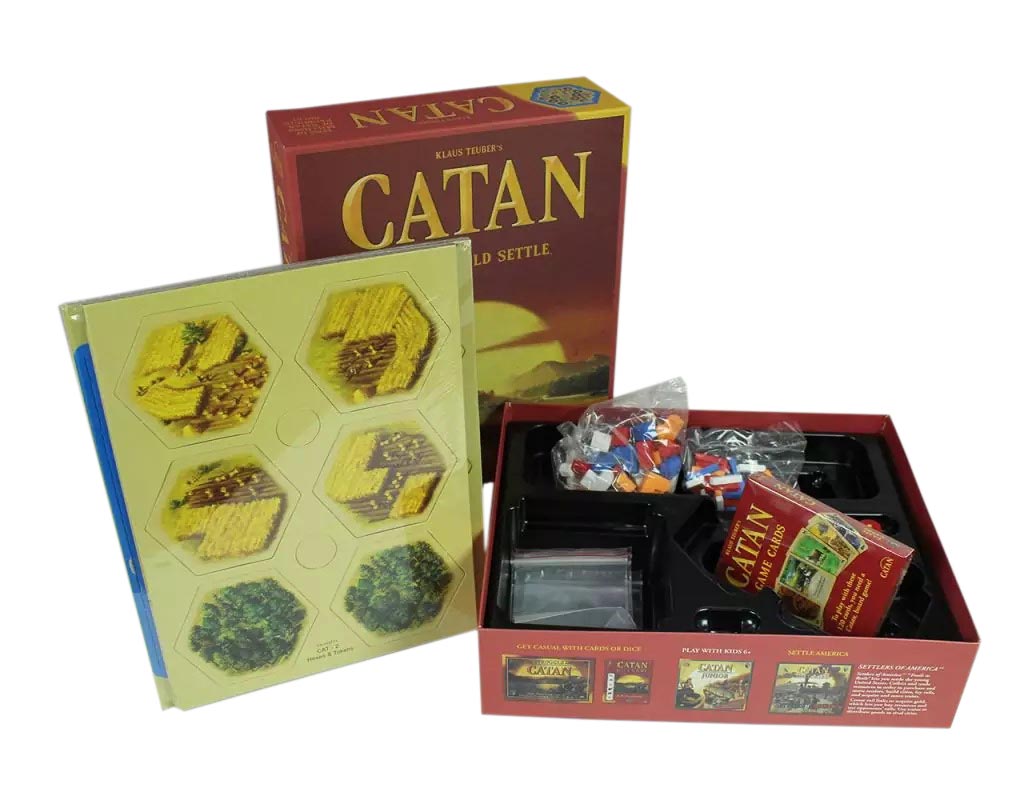 How much does it cost?
The estimated cost of 500 units of a custom game like Settlers of Catan using our calculator is $14,385.21. That comes out to $28.77 per unit.
At Print Ninja, we offer many different options when it comes to playing pieces, game boards, cards, and finishes on these products. To lower your production costs we recommend reading our price reduction guide, which will show you how to do this without sacrificing game quality. Our instant budgetary quote calculator shows all of our available options, making it easy to adjust your costs.
Since PrintNinja specializes in medium to large quantity orders, we have a minimum order quantity (MOQ) of 500 units. To help you make a decision on the types of materials to use in your board game, we recommend ordering a sample pack: this is the best way to experience the types of components PrintNinja offers.
Looking for more inspiration? Check out some of our other tutorials, featuring instructions on how to make games like Life, Clue, and Monopoly.
Ready to get started?
We've created a custom pricing calculator for you to explore all our different printing choices, shipping methods, and get an instant price for your project. You can also customize just about anything, from size and paperweight, to specialty options like metallic ink, foil stamping, and so much more.
Get Your Price
Freshly updated customer reviews from TrustPilot