Custom Risk Game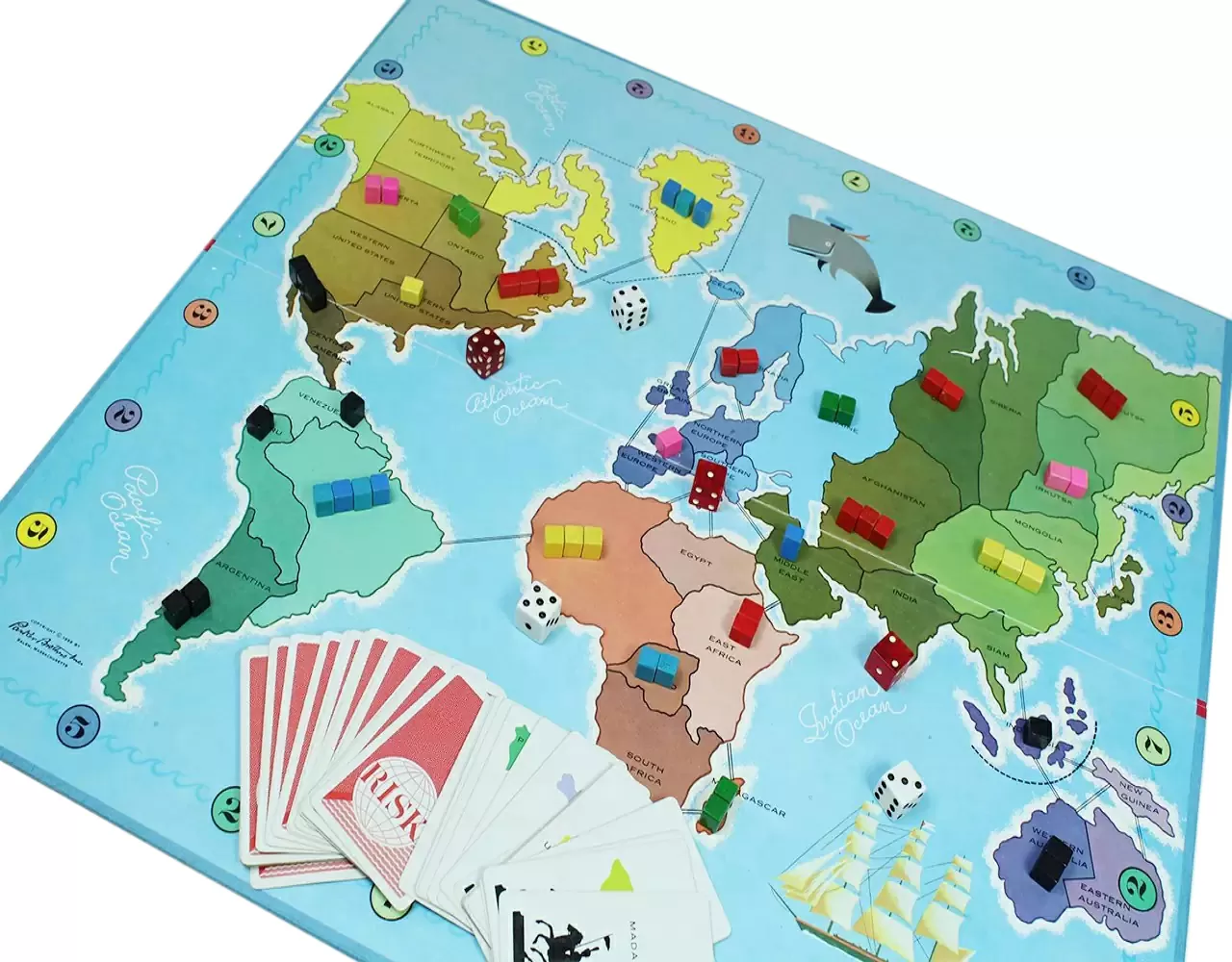 Risk is a diplomacy simulation tabletop game. The game revolves around taking over territories all over the world. By applying the SVU model (Simplicity, Variability, and Uniqueness), we can understand what makes this game so successful and learn how to make a custom game just like Risk.
Simplicity: though players can invest time in learning how to master the game, Risk can be picked up by just about anyone, even by children who may not have an understanding of the geopolitical undercurrents of the game – Risk, according to Hasbro, can be played by players as young as 10 years old.
Variability: Risk can take a long time to play – which can be great, unless you're short on time. If you are, there are variations that make the game move along more quickly, including Mission Risk, where players focus on dominating a specific country instead of the entire globe.
Uniqueness: though not an exclusively political game, it can be used to teach concepts about how countries occupy other countries.
Game Components

6 sets of 126 wooden cubes in 6 different colors, size small (8 x 8 x 8 mm)
5 sets of 7 sticks in the same colors as the cubes, 5 x 5 x 25 mm
44 standard poker sized cards
1 unique poker sized card
3 0.55″ opaque resin dice, 3 0.55″ transparent resin dice

Foldable playing board with 1/2 fold, approx 23″ x 21″

Instruction Manual, 5.5″ x 8″
How much does it cost?
Estimated price for 500 units using the Print Ninja quote calculator: $35,147.74 or $70.30 per unit.
At Print Ninja, we offer many different options when it comes to playing pieces, game boards, cards, and finishes on these products. To lower your production costs we recommend reading our price reduction guide, which will show you how to do this without sacrificing game quality. Our free instant quote calculator shows all of our available options, making it easy to adjust your costs. 
Pricing for making a game like Risk depends on the game pieces that you choose. For help keeping costs low, check our cost reduction tips. 
Since PrintNinja specializes in medium to large quantity orders, we have a minimum order quantity (MOQ) of 500 units. To help you make a decision on the types of materials to use in your card game, we recommend ordering a sample pack: this is the best way to experience the varieties of cards you can order for your custom card game.
Looking for more inspiration? Check out some of our other tutorials, featuring instructions on how to make games like Monopoly, Clue, and Life.
Ready to get started?
We've created a custom pricing calculator for you to explore all our different printing choices, shipping methods, and get an instant price for your project. You can also customize just about anything, from size and paperweight, to specialty options like metallic ink, foil stamping, and so much more.
Get Your Price
Freshly updated customer reviews from TrustPilot