Custom Monopoly
What is Monopoly?
Monopoly is a popular game that revolves around trading property in order to obtain, well, a monopoly on the board. Originally created in 1903, it has become widely popular and is licensed locally in over 100 countries. By applying the SVU model (Simplicity, Variability, and Uniqueness), we can understand what makes this game so successful and learn how to make a custom game just like Monopoly.
Simplicity: while the standard version of Monopoly may be a bit confusing to younger players (1st graders don't usually have a great grasp on the finer points of income tax), Monopoly has created a simpler version – Monopoly Junior – that is easier for kids to play.
Variability: the mechanics of Monopoly aren't dependent on the theming of the game – meaning that there are several versions of Monopoly that will suit your interests. (Horse Lovers Monopoly, anyone?)
Uniqueness: Monopoly is, at its core, an educational game – it is based on a game invented by Lizzie Magie who wanted to show that monopolies have an overall negative impact on the economy.
Want to make your own custom version of Monopoly? Read on to find out what components you'll need.
Game Components
One of the most iconic parts of Monopoly the custom player pieces it includes. One way to replicate this is by ordering custom miniatures with the player pieces that you want. But Monopoly isn't just about the player pieces! These are the other components you need to make a board game like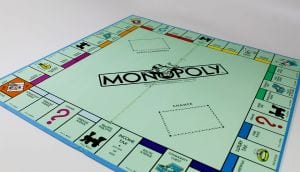 Monopoly:
Game board, 20″ x 20″ 

2 opaque resin dice, 0.55″

Game pieces

10 player pieces, about 1.25″ tall

32 houses, which we have available in 10 x 12 x 15 mm wood

12 hotels, which we have available in 20 x 20 x 10 mm wood

Custom cards

28 Title Deeds for each property (including 4 railroads and 2 utilities), tarot size

16 Chance and 16 Community Chest cards, mini size

Play money in varying colors

40 $1, $5, and $10 bills

48 $20 bills
23 $50, $100, and $500 bills

A plastic organizer for the bank

Accordion-style instructions, 7.125″ x 5.25″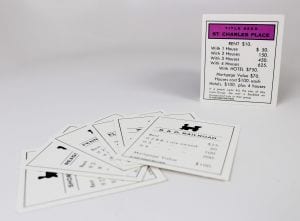 How much does it cost?
The estimated cost for 500 units of Monopoly is $14,736.83, or 500 per unit.
At Print Ninja, we offer many different options when it comes to playing pieces, game boards, cards, and finishes on these products. To lower your production costs we recommend reading our price reduction guide, which will show you how to do this without sacrificing game quality. Our instant budgetary quote calculator shows all of our available options, making it easy to adjust your costs.
Since PrintNinja specializes in medium to large quantity orders, we have a minimum order quantity (MOQ) of 500 units. To help you make a decision on the types of materials to use in your board game, we recommend ordering a sample pack: this is the best way to experience the types of components PrintNinja offers.
Looking for more inspiration? Check out some of our other tutorials, featuring instructions on how to make games like Life, Clue, and Settlers of Catan.
Ready to get started?
We've created a custom pricing calculator for you to explore all our different printing choices, shipping methods, and get an instant price for your project. You can also customize just about anything, from size and paperweight, to specialty options like metallic ink, foil stamping, and so much more.
Get Your Price
Freshly updated customer reviews from TrustPilot