Interview with P.E. Robinson, Creator of the Createures Drawing Deck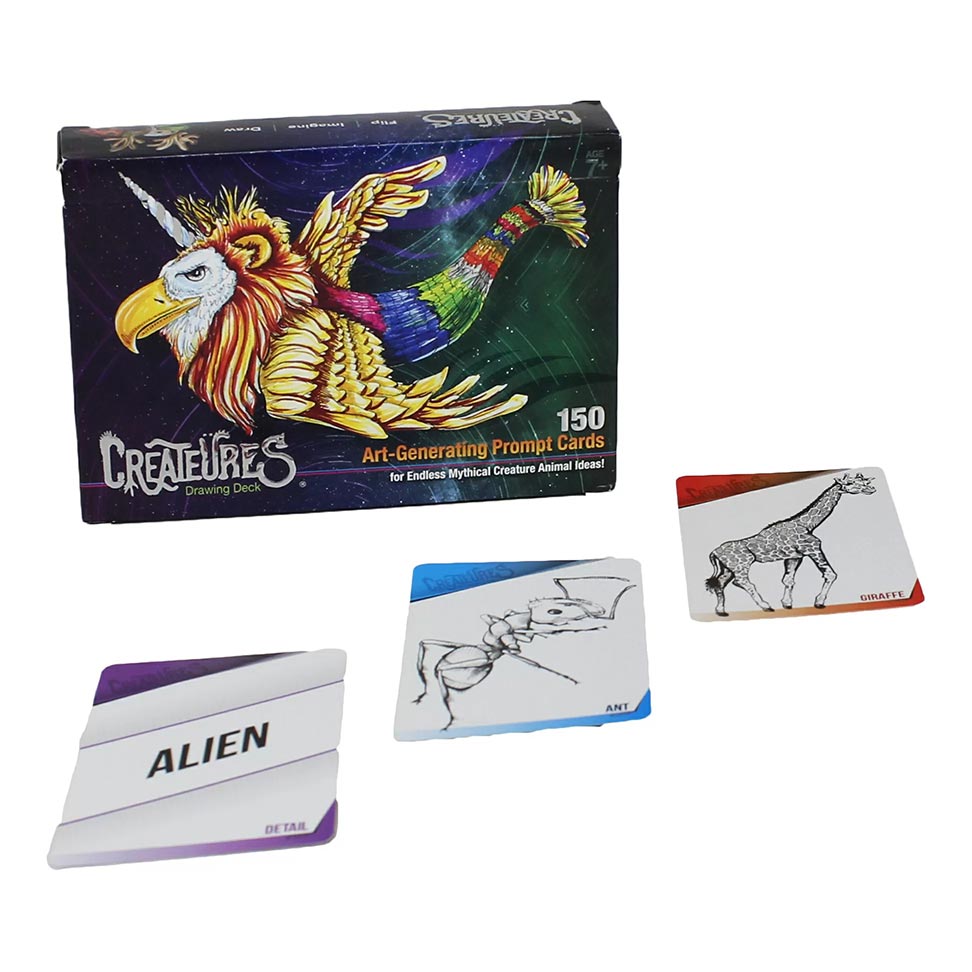 How did you come up with the idea for Createures Drawing Deck?
Createures Drawing Deck was kind of an accidental thing. I have always drawn since I was a child. Occasionally when I draw with my kids they would give me challenges or ask to teach them something specific. Then one day, they asked if I would draw a hippopotamus mixed with a peacock… drawing was never quite the same in our house after that.
We thought others might like to try this mish mash of animal ideas, so we made it more formal, developed rules, the design and then packaging was made official. Once funded on Kickstarter we knew it was at least a possible desired product and so we put in a lot of our own money and did a first run.
What was your favorite part of the deck making process?
Our favorite part of making the decks is playtesting and prototyping. We have a seemingly great flat design, think it looks good, but until you print and fold it into a 3D box or full set of shufflable cards, it doesn't matter. Everything is different when you hold and play from it. We've been designing things for 20+ years, but the little details are what end up taking the project as a whole to the next level. And so far Print Ninja has been able to execute our large projects to perfection.
What was the crowd-funding experience like for you?
Crowdfunding in and of itself is a fantastic idea. Being a small company with tons of ideas, it has been a soundboard for whether there is a market for our products before going all-in.
In recent years it seems like you have to have a huge social media presence or multi-million dollar or follower business before launching a project, which seems unfair to us little guys. But, hey, everyone starts somewhere and we're happy the platform exists as an option, regardless of how many times we get overlooked (project of the day, or newsletter shares, etc.). We'll keep chugging up the hill.
What's one piece of advice you would give to creators looking to make their own card game?
Aside from having millions of 'subscribers' or 'followers' ahead of your launch, we would advise having a solid design and premise. Packaging is the first thing shoppers see, regardless of where they are and affects whether it gets purchased and mood before you start playing. If it looks really dumb, it might not be worth your time or money. (Though there are always ugly surprise hits!)
And the premise or gameplay should bring something new to the arena. A lot of games piggyback on other successful games and change one little thing. Try to bring something totally NEW and fresh to life, you might surprise yourself, and, if you're lucky, the world!
Purchase the Createures Drawing Deck here.
Ready for the next step? Get an instant quote with our custom card game calculator, or order a sample pack.
Ready to start?
We've created a custom card game pricing calculator just for card games so you can explore printing choices, shipping methods, and accurate order prices for your project. You can also customize just about anything, from game card size to specialty options like embossing and debossing.
Get Your Price
Freshly updated customer reviews from TrustPilot