Interview with Matt Martinusen, Creator of The Catholic Card Game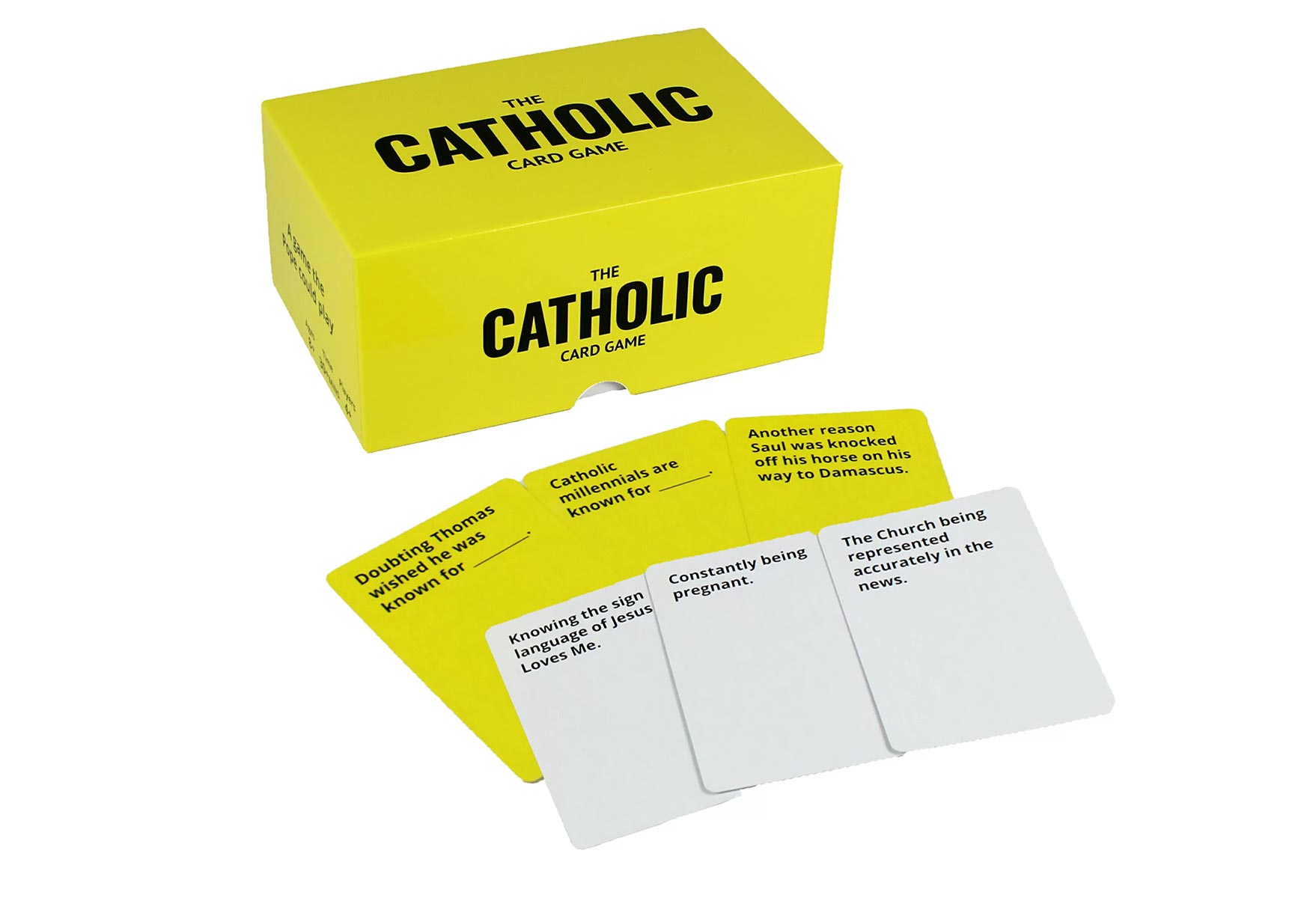 How did you come up with the idea for the Catholic Card Game?
There are a lot of party games of this type and I wanted to make a version for the niche audience that I am a part of.
What was your favorite part of the deck making process? 
I really enjoyed creating the content of the game, diving into to knowledge I had and collaborating with other people. We had to make 480 unique cards so it took some time to get the number of cards we needed with the right mix of content on the cards.
What was the creative process for coming up with cards in the Catholic Card Game?
The process was sitting down with our creator team to go through all the different possibilities of content for the cards, which totaled up in the high hundreds of card ideas. Then through playtesting and review, we narrowed down to the best cards ensuring that we were only putting cards that fit perfectly in the game.
What was the crowd-funding experience like for you? 
Crowdfunding was exciting and incredibly nerve-wracking. Watching the campaign creep along each day was super awesome to see the idea validated with backing but also stressful knowing that if we don't hit our goal, we won't get any funding.
What are your favorite card games?
I grew up playing cribbage and other classic playing card games like that. In college, I was exposed to more party games and found myself enjoying games that bring friends together which is a big part of the game we made.
What has the response to the game been like? 
The response has been overwhelmingly positive. We have had a lot of support on Kickstarter campaigns and sharing the game by word of mouth and social media. The game has grown beyond what we were originally even thinking. Catholics from all over the country and even some international orders have purchased and played the game
What's one piece of advice you would give to creators looking to make their own card game?
I would say that you have to know there is a hungry audience for the content. I didn't know if this game would be a good fit, but I did know that there was an underserved audience with this type of product, like a party card game. I would also say that making connections in the audience who have a voice who can help share out the idea in order for it to get funded.
Ready for the next step? Get an instant quote with our custom card game calculator, or order a sample pack.
Purchase The Catholic Card Game here.
Ready to start?
We've created a custom card game pricing calculator just for card games so you can explore printing choices, shipping methods, and accurate order prices for your project. You can also customize just about anything, from game card size to specialty options like embossing and debossing.
Get Your Price
Freshly updated customer reviews from TrustPilot