Interview with Cynthia Leck, Creator of Designing for Learning Cards
How did you come up with the idea for Designing for Learning Cards?
My organization, Transcend, is a national nonprofit organization focused on innovation in school design. We support communities in creating and spreading extraordinary, equitable learning environments. My role involves creating resources for these communities that are based largely on academic research.
This research can be dense, and hard to understand. Many of our resources do a great job of making the research more digestible and actionable. However, most of these resources still take the form of long, written documents. These resources have their place but we also wanted some others that reflect our spirit of innovation, fun, and hands-on design more fully. In addition, we often work with communities in person and papers just aren't all that helpful in these contexts. So, in came the cards.
Each card shares a research-based principle that contributes to learning in the front and questions to prompt reflection on the back. In addition, we created two booklets. One that provides an introduction to the content on the cards and one that includes activities users can engage in with the cards. We actually had a previous version that we hacked together by getting business cards printed, but when we got a huge order from a partner organization (60,000 decks!) we just couldn't use the same process. So, we found PrintNinja!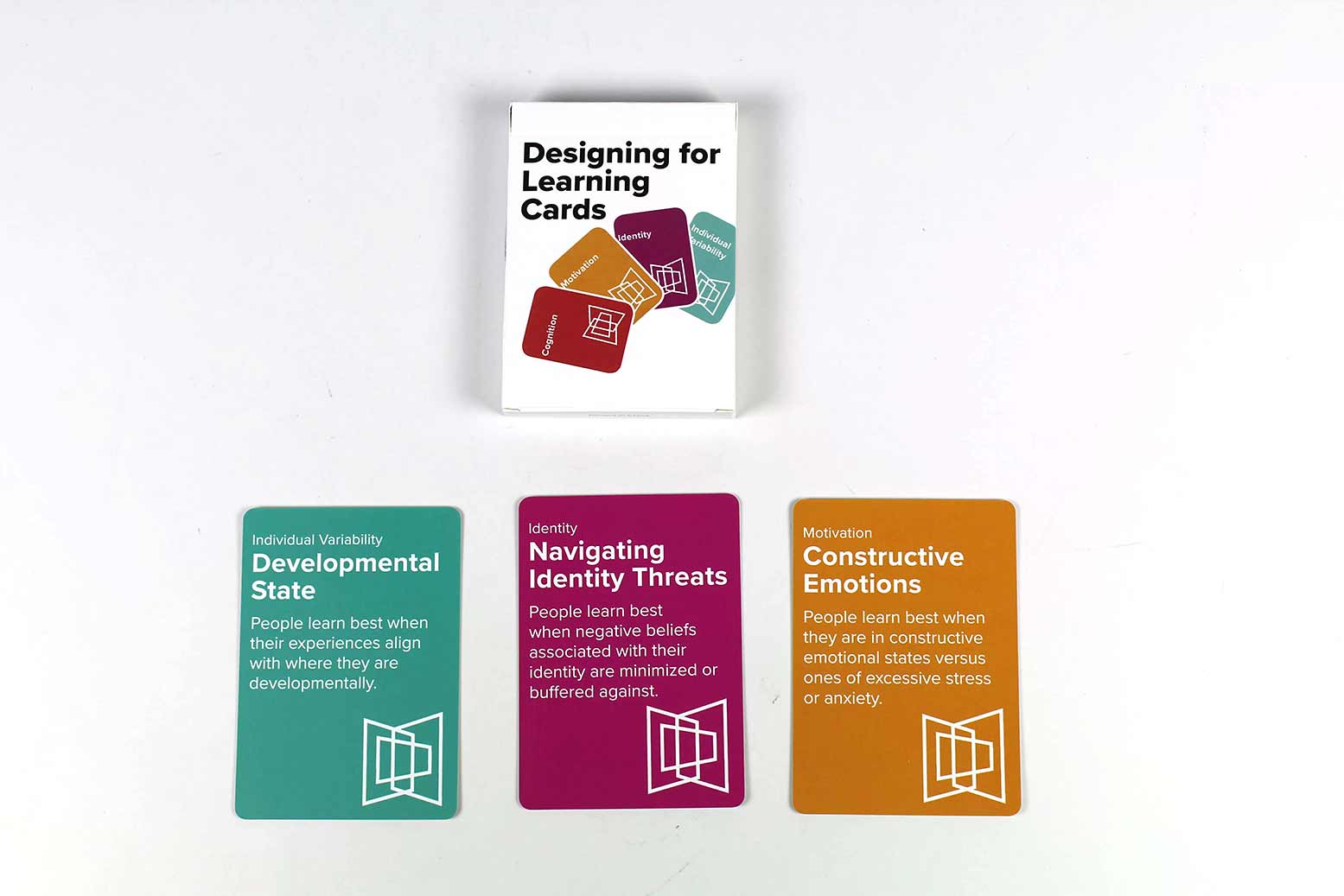 What was your favorite part of the deck making process?
The flexibility and getting my first physical proof.
In terms of the flexibility, I loved being able to send my ideas and questions about ways to customize to my PrintNinja contact because the answer was so often, "Yes! We can do that!" One example of this was the inclusion of two booklets instead of one, each of which were longer than is standard.
Then, getting the physical proof was just very exciting! It came fast and really gave me a sense of what we should still change to make them perfect.
The box of samples I got at the beginning of the process was also pretty cool.
What's one piece of advice you would give to creators looking to make their own resource like this?
There are tons of resources online, both on the PrintNinja website, and beyond. Check them out! This helped me a ton in terms of both the technical matters and in terms of creative inspiration. I'd actually never used InDesign before this process but I was able to figure it out quickly through my online exploration and now I'm hooked! I already have lots of ideas for follow up projects.
Purchase Designing for Learning Cards here.
Ready for the next step? Get an instant quote with our custom card game calculator, or order a sample pack.
Ready to start?
We've created a custom card game pricing calculator just for card games so you can explore printing choices, shipping methods, and accurate order prices for your project. You can also customize just about anything, from game card size to specialty options like embossing and debossing.
Get Your Price
Freshly updated customer reviews from TrustPilot