Custom Miniatures MOQ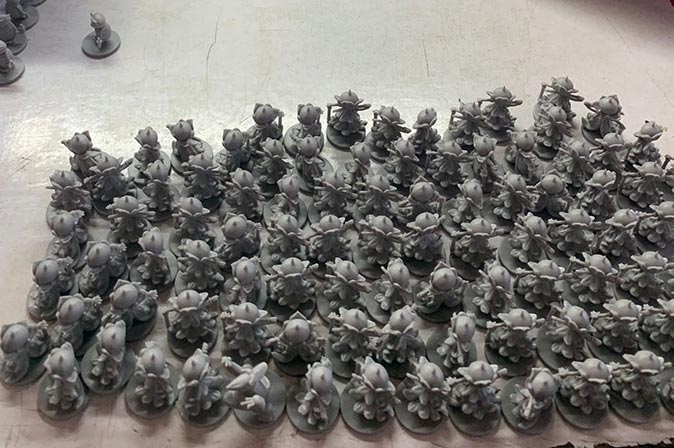 Bear in mind that, just like any product you order from PrintNinja, there is a Minimum Order Quantity (MOQ) involved with ordering custom miniatures  Just like offset printing, the process to create custom miniatures requires a lot of set up time and labor – therefore, creating them is only profitable above a certain order quantity. Requiring your order be above our MOQ helps us keep costs reasonable for you!
For miniatures, the MOQ is 1000 injections or sets. What this means is that you'll need 1000 injections of any type of piece within your set of custom miniatures. This does NOT mean 1000 individual miniatures, but 1,000 injections inside the tool that was created for your miniatures. If your order requires 5 unique miniatures in each set, you'll be ordering 1,000 injections of those 5 pieces or 5,000 total miniatures. 
Similar to offset, the greater your quantity the better your "per piece" rate will be on the individual miniatures. A great deal of the cost goes into the complex set up, so once that is done,  it becomes much cheaper to continue injections into the same mold for higher quantities. The more you order, the more you save!
Freshly updated customer reviews from TrustPilot