How to Create a Custom Cards Against Humanity Game
What is Cards Against Humanity?
Cards Against Humanity is an adult party game. The game consists of matching risqué cards to one another for humorous results. First posted on Kickstarter in 2010, the game raised $4,000 in two weeks, eventually raising over 400% of its initial goal. It quickly became the #1 board game on Amazon and generated over $12,000,000 in profit. By applying the SVU model (Simplicity, Variability, and Uniqueness), we can understand what makes this game so successful and learn how to create a custom Cards Against Humanity game. Please note: when creating a game similar to Cards Against Humanity, you should never infringe on their (or anyone's!) copyright. Infringing on their copyright could be as simple as imitating their packaging or naming your game very similarly. Essentially, you never want your product to be confused with or seem to be directly associated with the original game. Be smart and be conscientious — for your own legal protection!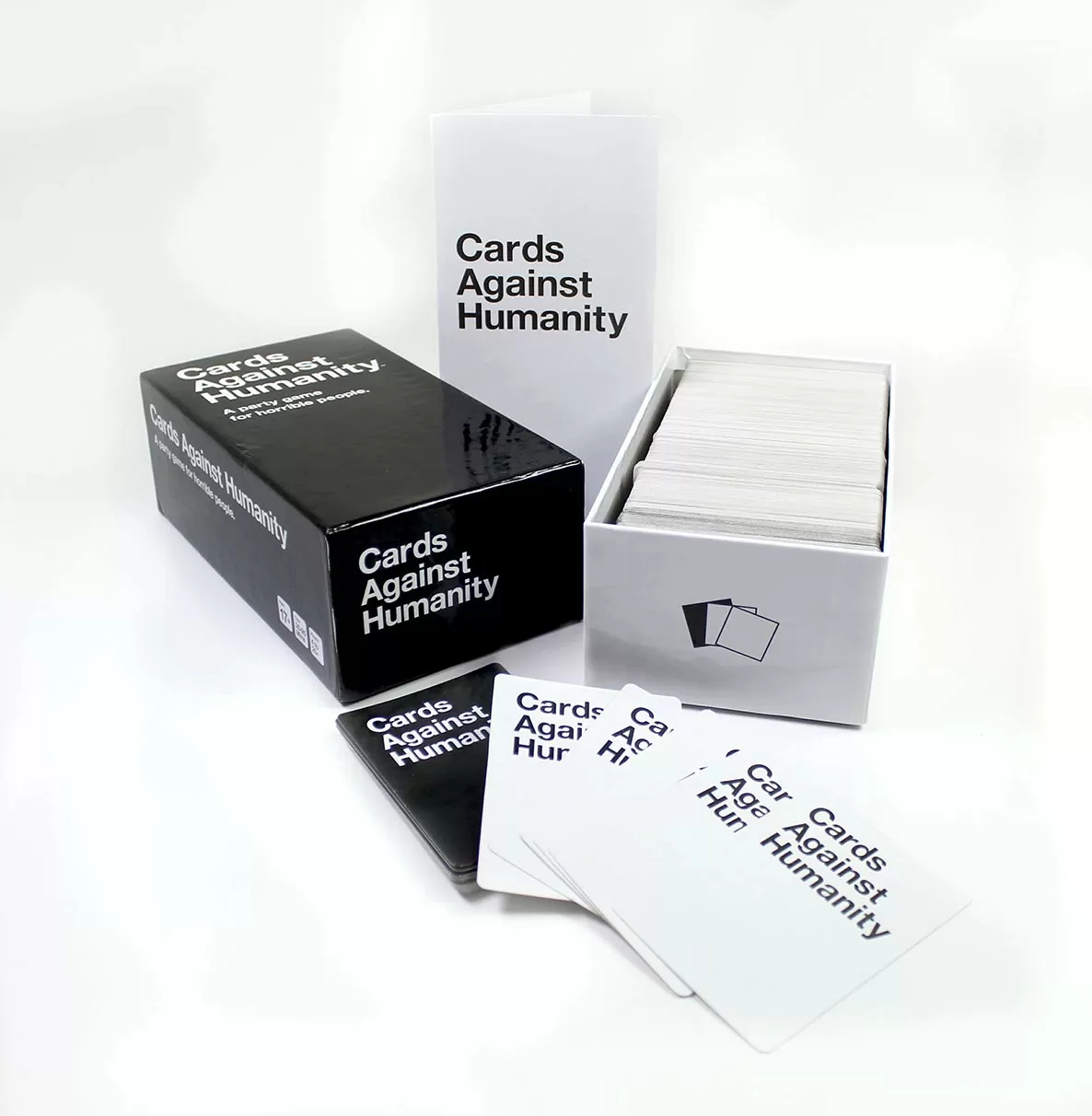 Simplicity: like its predecessor Apples to Apples, Cards Against Humanity is simple to play and only requires two types of cards. It's so simple, in fact, that the company even offers the ability to make the game at home.
Variability: the game can be played in several different ways, such as "Survival of the Fittest" where each player eliminates a card, and "Never Have I Ever," which allows players to discard cards they don't understand.
Uniqueness: Cards Against Humanity created a whole new genre of party games – instead of marketing to the whole family, they marketed towards adults. The fact that the game is so popular even though it can only be played in certain settings (definitely not on Grandma's birthday or an office party!) speaks to the quality of this game.
Components
460 poker size (2.5"x 3.5") white cards, 280 GSM blue core with gloss finish
90 poker size (2.5"x 3.5") black cards, 280 GSM blue core with gloss finish
2 piece box – gloss lamination
Because Cards Against Humanity has so many cards, and they don't have to be shuffled frequently, we recommend going with a 300 GSM coreless for the best bang for your buck. For other tips on saving money while making your card game, check out card game cost reduction strategies.If you want a ballpark estimate of how much your card game would cost, reference our sample pricing page.
To find out how much making a game like Cards Against Humanity would cost, plug the specifications into custom card game calculator.
Since PrintNinja specializes in medium to large quantity orders, we have a minimum order quantity (MOQ) of 500 units. To help you make a decision on the types of materials to use in your card game, we recommend ordering a sample pack: this is the best way to experience the varieties of cards you can order for your custom card game.
Looking for more inspiration? Check out some of our other tutorials, featuring instructions on how to make games like Apples to Apples, Blackjack, and Uno.
Ready to start?
We've created a custom card game pricing calculator just for card games so you can explore printing choices, shipping methods, and accurate order prices for your project. You can also customize just about anything, from game card sizes to specialty options like embossing and debossing.
Get Your Price
Freshly updated customer reviews from TrustPilot