PrintNinja - online printing made easy for creators
Our customer service team has helped deliver more than seven million pieces to happy customers around the world. Lean more about that team and quote your printing project today!
Spot Gloss and Spot UV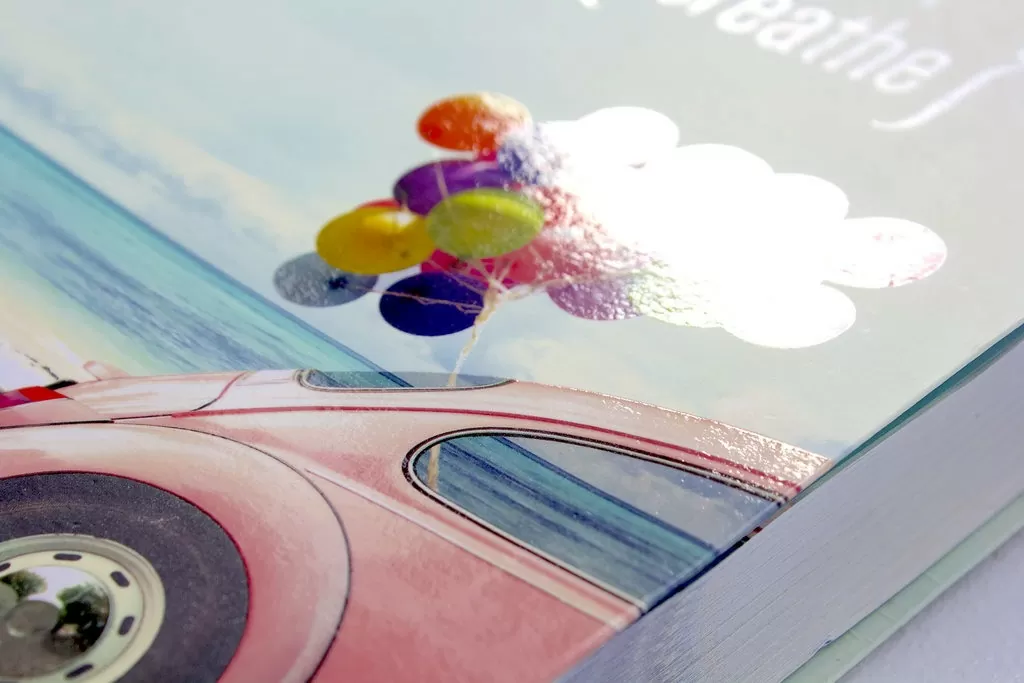 If you want areas of your book cover or game to really pop, you can include a Spot Gloss, also known as a Spot Varnish or Spot UV.
Is there an area on your cover that you want to really stand out? Captivate your customers by drawing the eye directly to your most compelling graphic or text using a Spot Gloss, also known as a Spot Varnish or Spot UV.
This unique high-gloss shine is typically applied either atop a matte varnish or matte lamination. As a result, the area with the Spot UV will be shiny and accentuated, standing out against the rest of your smooth matte design. If you're curious about how to make areas of your project pop using this feature, take a look at our setup guide below.
PrintNinja Tip
See our Spot UV Setup Guide for directions on setting up your files with Spot UV.
What is Spot UV?
Spot UV is a clear varnish that can be applied to your printing project in specific areas. Similar to how ink is added to your project, the varnish is a liquid that is applied via a cylinder during the printing process. Afterwards, the varnish is cured using a UV light, hence, Spot UV. This option adds not only a reflective property to your project but also a textural component, drawing attention to a particular part of your project.
Glow in the Dark!
A variation on a standard Spot UV is Glow in the Dark. Although this option looks almost exactly like the standard option in normal light, when exposed to bright light, that area will glow in dark conditions. To add Glow in the Dark Spot UV to your order request a custom quote.
Pricing
You can request pricing for this add-on by checking the appropriate box on our quoting calculator. If you have additional specialty options in mind for your project, these can also be requested when locking in your quote. Please note: Spot UV is currently only available with our international print service, we hope to offer this option domestically in the future.
Setup Guide
For instructions on how to set up Spot Gloss and Spot UV for our project, please see here.
Ready to Get Started?
We've created a custom card game pricing calculator for you to explore all our different printing choices, shipping methods, and get an instant price for your project. You can also customize just about anything, from size and packaging, to specialty options like Spot UV and so much more.
Get Your Price
Freshly updated customer reviews from TrustPilot