Interview with Lettie Jane Rennekamp, Creator of the Many Queens Tarot Deck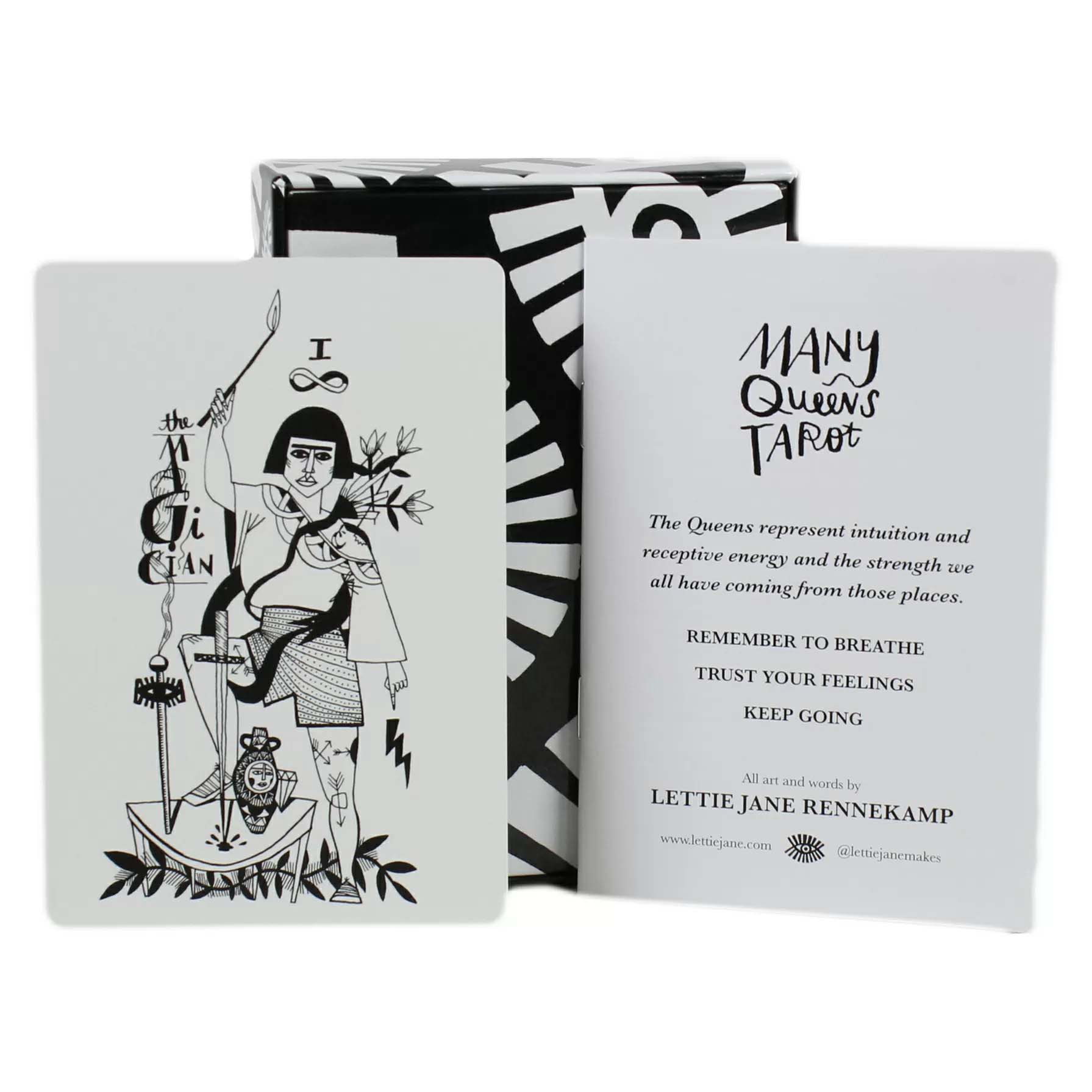 How did you come up with the idea for the Many Queens Tarot Deck?
I started illustrating the tarot deck as a #100days project on Instagram. I had been working with a professional reader (Erin Aquarian) as a creative coach and I had a small collection of artist's decks. I didn't think the project over for very long, it was 4 days into the #100days project and I couldn't think of a particular project so I just jumped in with the tarot, with the 5 of wands. It felt more like some blind inspiration than an actual plan and I wasn't sure I would even finish illustrating it, but once I started, I loved doing it so much, I couldn't stop. The wands represent energy and fire so they seemed like the best suit to start with and it was the 5th day of #100days project so I started there. I illustrated the rest of the deck consecutively, saving the Major Arcana for last.
What was your favorite part of the deck making process?
I loved illustrating the cards. I used the Rider-Waite-Smith deck as a template for my deck but made decisions on a daily basis as to how I would interpret those original images. The RWS deck was first published in 1910 and I used it as my starting point because it is among the most iconic or classic interpretations of the tarot. Everyday I would draw a new card and I would decide how the RWS card made me feel, noticing if I felt somehow excluded from the imagery or meaning. In particular, I loved illustrating then people in the deck. I found myself illustrating people across the gender spectrum, with different body types and presentations of beauty. I was trying to find ways to make myself comfortable. I was trying to illustrate a world that felt a little softer. I was trying to become more comfortable with my own femininty, and let the bounds of what that could look like open up a little.
How did you secure funding for your deck? Did you crowd-fund?
I crowd-funded through Kickstarter. Almost half the people who backed my deck found me directly through Kickstarter. The other half of my backers came from my mailing list and Instagram. I was really lucky to find Anne Parmeter to make my Kickstarter video, and Micheal Buchino and Kacey Meyer to help me as my accountability partners. Buchino would text me and say "Have you reached out to this person today?" (someone influential who might feature my deck on one of their social media feeds), and I would text back "I'm on the floor, crying." This literally happened more than once, Buchino would tell me I was doing great and to get off the floor. I feel really lucky my deck resonated with enough people to be successfully funded and now in production of a second edition.
What was your tarot experience prior to making this deck? Were there any decks that inspired you?
My best friend gave me The Aquarian Tarot (I'm an Aquarius) about 10 years ago and I had been reading cards with friends or by myself on and off since then. The tarot has always felt like a good vehicle for conversation and exploration when I am going through a rough or "lost" period. About 7 or 8 years ago, I found a book called Medicine Cards by Jamie Sams and David Carson at a thrift store. The book didn't have a set of cards with it so I made a rough deck with old playing cards and sharpie. That wisdom and advice in that book is something I still turn to regularly. I was really inspired by the Slow Holler deck: a queer, southern tarot deck whose booklet is full of kind and empowering words. Before making my deck I was using Rachel Howe's Small Spells tarot a lot, which was inspiring in it's simplicity and directness. I used Rachel Pollack's 78 Degrees of Wisdom to help me interpret the tarot for years, and Alejandro Jodorowosky and Marianne Costa's The Way of the Tarot as a counter-balance to that book. I find that some decks come into my hands and I love them and use them everyday for months and then there is a shift and they seem like they no longer resonate, at which point I will pass them on to someone new. There are superstitions about buying a deck versus receiving one as a gift. I think that the right tarot deck can come through many different avenues, whenever we seem to need it.
What's one piece of advice you would give to creators looking to make their own tarot deck?
I think one of the most powerful aspects of making my own tarot deck was the healing messages I sent to myself about my body and who I am in the world. I would advise people interested in making their own deck to look within for what they need from the tarot, and design images based on who they are and what they want.
Ready for the next step? Get an instant quote with our custom card game calculator, or order a sample pack.
Ready to start?
We've created a custom card game pricing calculator just for card games so you can explore printing choices, shipping methods, and accurate order prices for your project. You can also customize just about anything, from game card size to specialty options like embossing and debossing.
Get Your Price
Freshly updated customer reviews from TrustPilot