How To Make A Game Like Blackjack
What is Blackjack?
Blackjack is a casino game that pits the player against the dealer. It is incredibly popular, and is the most popular casino banking game in the world. It's even inspired a few different game shows, including a game within The Price Is Right called "Hit Me!" By applying the SVU model (Simplicity, Variability, and Uniqueness), we can understand what makes this game so successful and learn how to make a game like Blackjack.
Simplicity: all that is required to play Blackjack is one deck of cards. Compared to many other casino games, it is relatively simple to learn – the only rule is to get your cards as close to 21 without going over. Anyone with basic addition skills can learn to play Blackjack.
Variability: there are several "house rules" that can be employed when playing Blackjack. Some are regional – 21st Century Blackjack in California and Spanish 21 in Australia, allowing players to get a new experience when playing in different parts of the world.
Uniqueness: Blackjack is unique in that it is a casino game that is easy to understand – this makes it more appealing to both gamblers and dealers.
Components
52 poker size (2.5"x 3.5") cards, 310 GSM black core linen with varnish.

1 tuck box – gloss lamination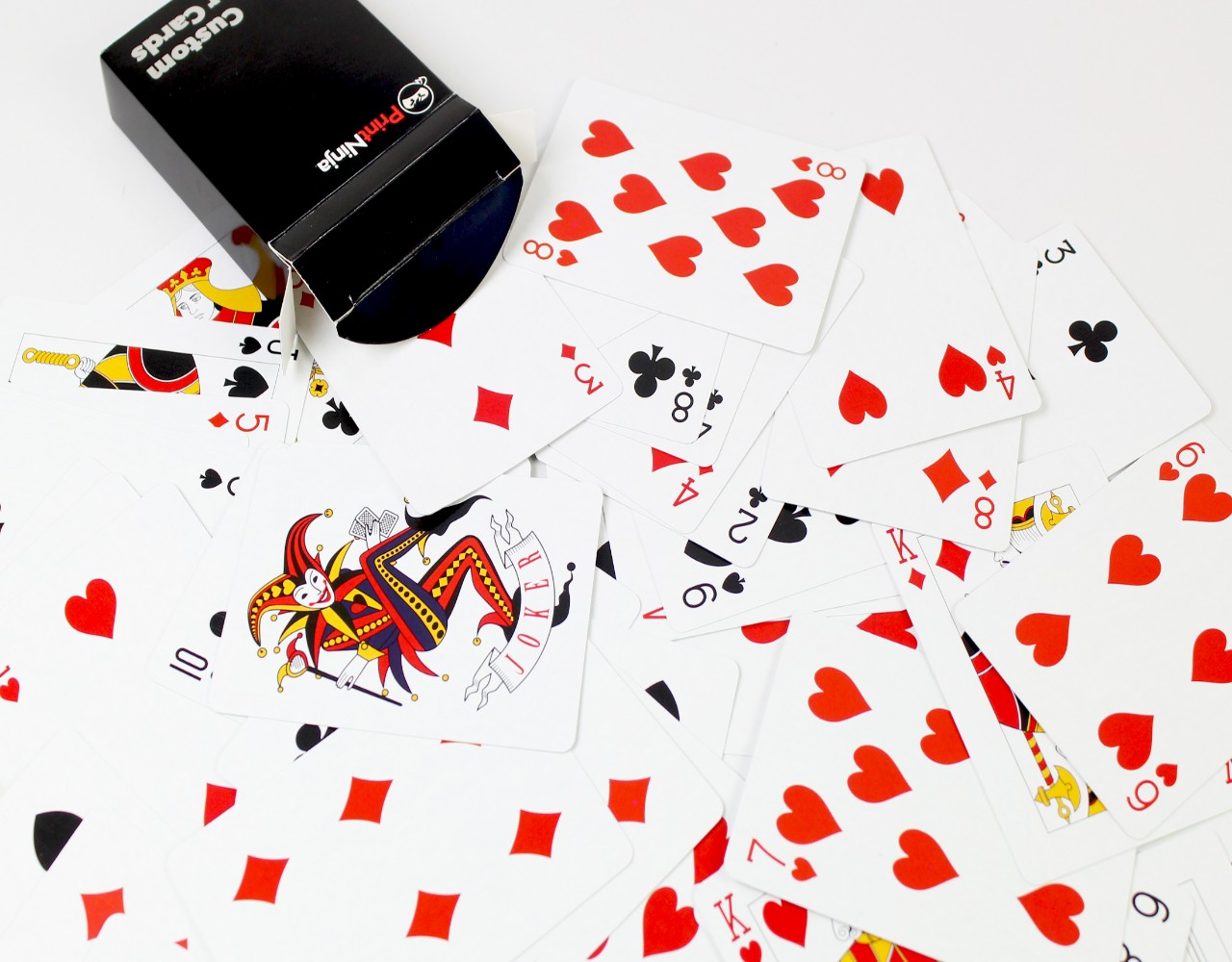 When designing your custom poker deck, you can use one of PrintNinja's pre-made card face artwork options to save time and money. For other tips on saving money while making your card game, check out card game cost reduction strategies. If you want a ballpark estimate of how much your poker deck would cost, reference our sample pricing page. 
To find out how much making a game like Blackjack would cost, plug the specifications into our custom card game calculator.
Since PrintNinja specializes in medium to large quantity orders, we have a minimum order quantity (MOQ) of 500 units. To help you make a decision on the types of materials to use in your card game, we recommend ordering a sample pack: this is a best way to experience the varieties of cards you can order for your custom card game.
Looking for more inspiration? Check out some of our other tutorials, featuring instructions on how to make games like Cards Against Humanity, Apples to Apples, and Uno. 
Ready to start?
We've created a custom card game pricing calculator just for card games so you can explore printing choices, shipping methods, and accurate order prices for your project. You can also customize just about anything, from game card sizes to specialty options like embossing and debossing.
Get Your Price
Freshly updated customer reviews from TrustPilot