Custom Dice
When it comes to custom dice, there are a ton of options to choose from. Here's our comprehensive guide to all the ways you can customize your dice for your custom board game. Once you've checked out our options, head to our board game quote calculator for an instant budgetary quote, or order a sample pack to see our board game options up close.
Dice color
Dice have two areas of color, the face and the pips, or the numbers on the dice. Our most popularly requested face colors are white, black, red, blue and yellow.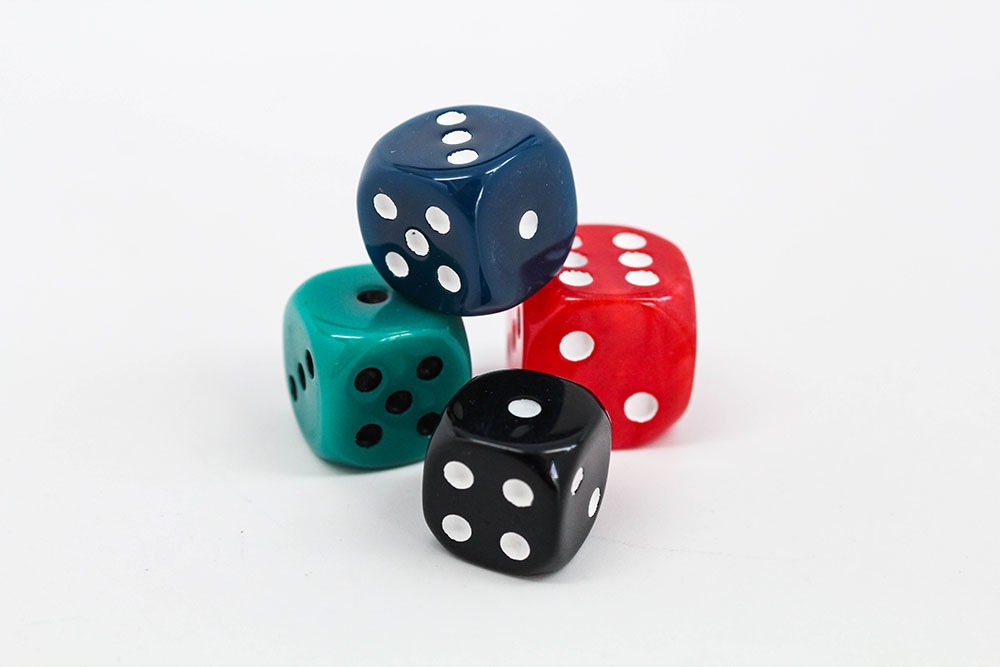 Traditionally, pips are black or white in color. However, we can customize your custom dice pips with any color you like.
Dice can utilize spot color, also called Pantone Match System. Since dice are colored using pigments, not ink, they are able to produce colors wider than the CYMK gamut.
We also have several glitter options: gold, silver, green, blue, and purple.
Dice size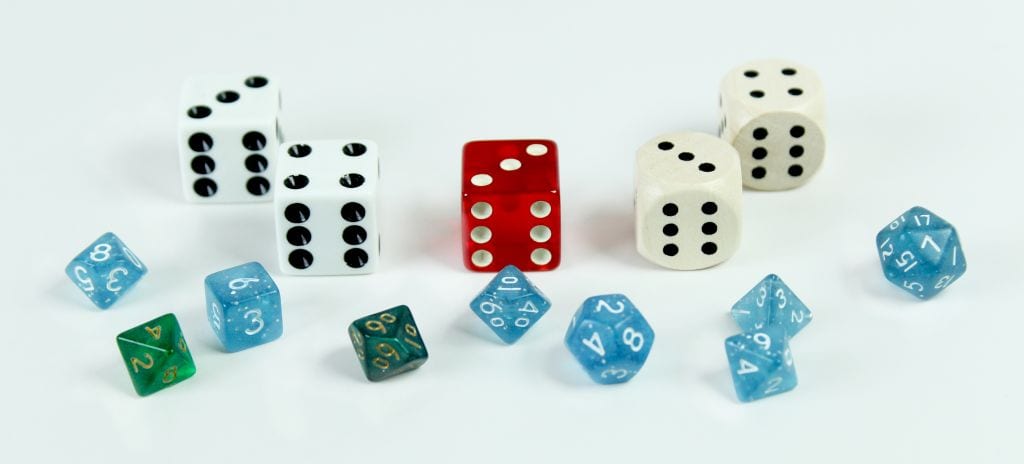 Our available dice sizes are:
Micro .4″ (10mm)
Tiny .47″ (12mm)
Small .55″ (14mm)
Standard .63″ (16mm)
Large .80″ (20mm)
Choosing a dice size is all about gameplay. If your game requires a player to roll 6 dice at the same time (Yahtzee) then a smaller size would be easier for a player to roll all the dice at once. Alternatively, your game may require one large master dice.
Number of Sides
Traditionally dice are cube-shaped, but depending on how many sides you would like your die to have, it may form a specialized triangle or sphere. Dice are referred to by the number of sides they have, i.e. a dice with 6 sides is called a 6-sided die or d6. We have 6 available options of dice:
If you need a different sided die, please request that on our board game request form's additional notes box. Please note there will likely be a high minimum order quantity for custom-sized dice. For more information on minimum order quantities and how they impact custom game pieces, stop by MOQ page.
Dice Face Types
Dice with Pip Faces
The standard face type is known as pips, the pattern of round dots that make up a number. However, pips can only be used on 6-sided dice. For the simple reason, if your die's number is larger then six, there won't be enough room for the pips to fit.
Dice with Standard Number Faces
For dice numbers larger than six, sides include a numeral like "4" or "10." This option can work for any sided die.
Spindown Dice Face
A spindown face is only available with 20-sided dice. This is not the same as 20-sided standard face dice. The difference is that numbers on a standard die will be laid out so opposite sides will always add up to equal the highest die number plus 1. For example, any two d6 opposite sides equal 7 and any two d20 opposite sides equal 21.
This rule does not apply to spindowns. Spindowns are laid out so the numbers are in sequence order and thus the die "spins" down from 20 to 1. This is most popularly seen with Magic: The Gathering life counter dice.
Custom Dice Sides
If the purpose of your dice has nothing to do with generating a random number, then custom faces are for you. We can engrave or silkscreen your designs onto the face of your dice. Of course, images that have a simple design are much easier to read and make a better impact.
Note that custom engraved dice and silkscreened dice have special requirements and minimum order quantities. For example, we are only able to engrave or silkscreen on 6 sided dice and the image must be vector-based. Custom engraved dice require a 1,000 unit MOQ and silkscreened dice require a 5,000 unit Minimum Order Quantity.
Corners
If your game works best with 6-sided dice, then you can specialize your dice further by selecting rounded or squared corners. These style options don't affect roll variability, this is strictly a design decision. However, if you have messy kids, rounded corners hurt less to step on!
Ready to get started?
We've created a custom pricing calculator for you to explore all our different printing choices, shipping methods, and get an instant price for your project. You can also customize just about anything, from size and paperweight, to specialty options like metallic ink, foil stamping, and so much more.
Get Your Price
Freshly updated customer reviews from TrustPilot